I recently did an 'Absorbent Idea' periscope on Beauty and Makeup. It was based on a series I did back in 2013. The conversation was so interesting I thought I would do a new series on Beauty. Let me know what you think!
---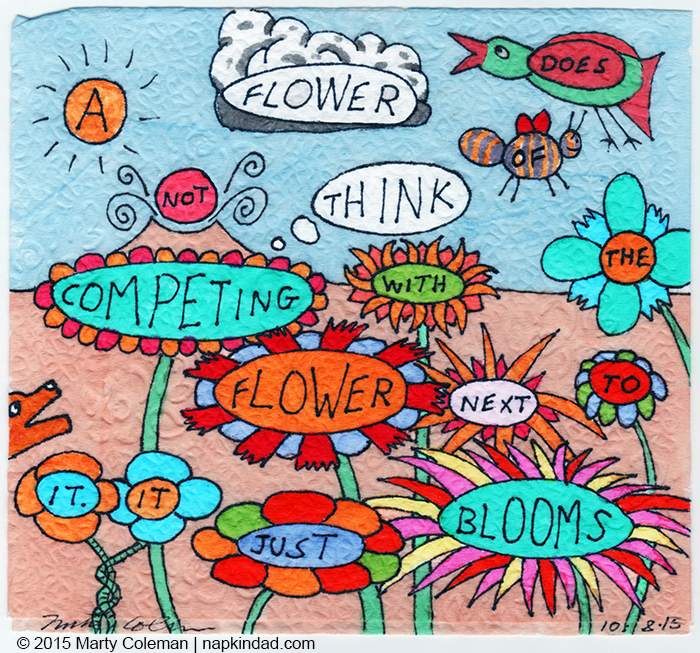 Comparing
So, one of the big things about outer beauty is the curse of comparison.  How do you know who is and who is not beautiful if you aren't comparing them, right? But comparing is wrong, isn't it? Doesn't that lead to feeling bad about yourself or judging others?  
I actually say no, it doesn't IF rightly understood.  The word compare is neutral. It doesn't have to assume judgment and condemnation, it can simply assume evaluation.  'Her eyebrows arch high'. 'Her highbrows don't arch'.  That is comparing and contrasting, not judging.
But you might say that is all fine and dandy but we know that judgment will naturally follow with a statement like, 'I like arched eyebrows and I don't like straight eyebrows.' Isn't that right?  No, it isn't right.  There is no intrinsic reason you have to state a judgment or a preference after noticing a difference between two things. You can just notice and absorb while exploring and admiring both.
Competing
When the trouble starts is when the thought of competition comes in. That there is going to be a loser and a winner in beauty.  That the purpose behind comparing is to compete. That there has to be a judgment that that 'beauty' is more beautiful than me.  But think about a flower. Does a flower say it needs to look like a different type of flower to be beautiful? No, it doesn't. It might compete for nutrients in the ground with another flower, but that is not about beauty, that is about survival. It isn't trying to be judgmental or critical of the other flower. It is not saying that flower isn't beautiful. It is simply doing what it needs to do to survive and thrive. It does it's best to get everything it needs to be it's best.
Your Beauty
If you do the same then you will always have your beauty. Your beauty will be genuinely yours. Not someone else's, yours. Your style, your shine, your colors. And you won't have to compete with anyone else for it.
---
Drawing and commentary © 2015 Marty Coleman | napkindad.com
Quote by Cornelius Lindsey, 1986 – not dead yet, American Preacher
---