I thought I was done, but I was not. Here's #6 in the Wealth series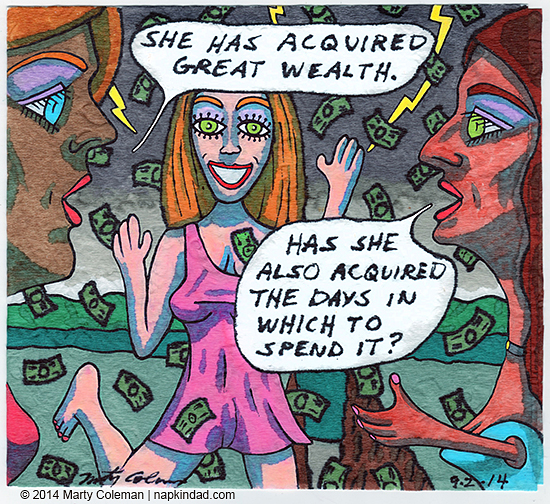 Time Immemorial
Long, long ago wise men and women in many different parts of the world discovered that obsessing with wealth often backfires.  The person spends his or her days accumulating, all the while not realizing their death is right around the corner.  Even the mightiest and wealthiest can be felled at any moment.  Alexander the Great died after an illness of just a few weeks. He was 32 years old and had just recently finished conquering the known world up to that point.  All that wealth and power didn't help him against a microbe they now think was the Bird Flu, carried by ravens who were documented as having been acting strangely and dying all around his home in the days and weeks leading up to his death.
Money, Money, Money
So what does that mean? Aren't we suppose to gather money? Isn't it important for our well being, our retirement, our health?  I never get the message that we aren't suppose to have money and prepare. The message I have always received, from Christianity, other religions and secular sources of wisdom, is to be a good steward, always recognizing money, goods, health, jobs, everything, can be taken away in a heartbeat.
This does not make me depressed as it might. It makes me feel at peace because I know I can deal with whatever comes.  It might not be easy, or comfortable or understandable.  But I can get through it because I don't place my being in the hands of money, I place it in the hands of the universe.
_____________________
Drawing and commentary by Marty Coleman
Script is from the quote, "It was told to a sage that a certain person had acquired great wealth.  He said, "Has he also acquired the days in which to spend it?"
Author is Solomon Ben Judah Ibn Gabirol, 1021-1069, Spanish poet
_____________________