Let's cut to the chase, it's day #4 of my Conscience series.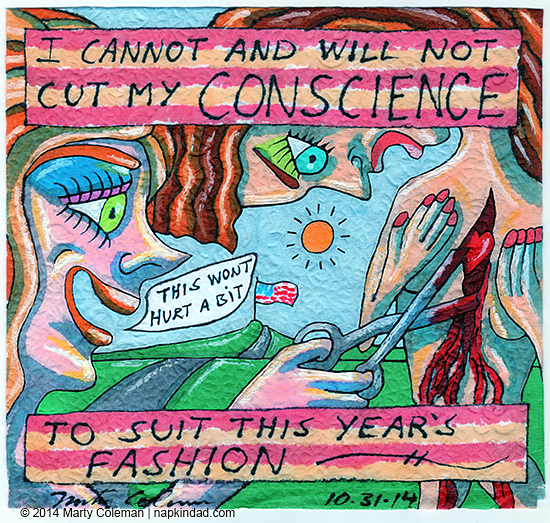 Moral Fashion
Is this about fashion?  Maybe, if you are a young woman who isn't comfortable wearing short shorts.  But 'fashion' comes in many forms.  There is moral fashion for example.
This quote actually came from a fight about communism here in the US back in the 1940s and 50s. The House of Representatives started to hold hearings trying to get citizens to tell on their neighbors, co-workers and friends as to whether they were communists or communist sympathizers.  When they brought Lillian Hellman, a play and screen writer, to testify she refused, using this quote to rebuff their attempts to coerce her to tell.
Heart
The reason I used the image of a heart being cut out is that more than any other element (besides perhaps one's romantic entanglements) our conscience really is the heart of who we are.  Take away our morality and our conscience and you pretty much leave an empty shell behind.
Pride
I am always proud of my friends, family and even people I only know online, who find their moral boundaries and grow in them.  Don't get me wrong though, I am not only talking about the 'traditional values' idea. I am also talking about the radical, or the nudist, or the person who foregoes the traditional life of the middle class for a life serving others in Africa.  I am talking about the child of doctors who expect their child to follow in their footsteps but instead they incur the wrath of the family by deciding to be a singer, or artist. This is true of the children of artists who want to be doctors too of course.
I am talking about those who have courage to say, 'This is me.'
___________________
Drawing and commentary by Marty Coleman
Quote by Lillian Hellman, 1905-1984, American playwright and screenwriter.  Look her up to find out more about her courageous stand against the House Committee on Un-American Activities.
___________________