Prologue
Liz didn't grow up in the church but she had been attending for many years.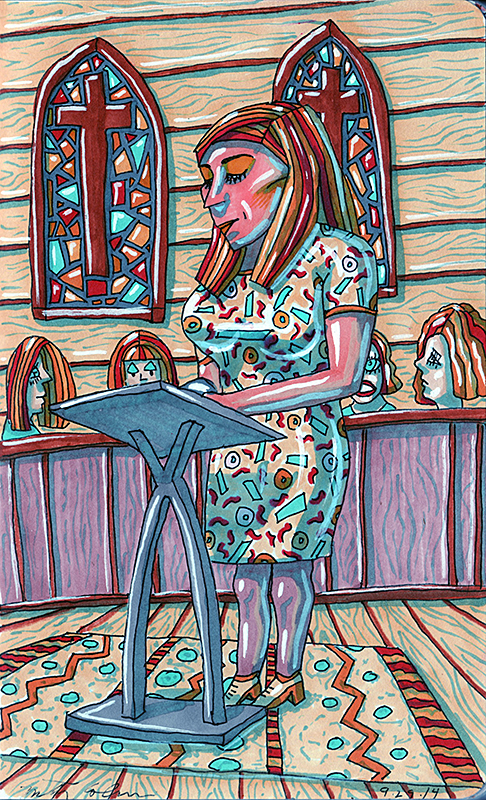 Chapter One
She got the dress from a new online shopping service.  She loved it and was excited to wear it to church where she was going to get up on the alter and report about the youth choir.
Chapter Two
As they got out of the car in the church parking lot her husband said, "I just noticed that two of those little donut circle things on your dress look like your nipples. They're right where they would be."
Liz gave him the death stare.  "WHY ON EARTH would you say that to me right now, even if it is true?"  She said.  "You know I am going to be completely self-conscious about that now!  You can be such an unthinking idiot sometimes."  
Chapter Three
By the time the pastor called her up onto the alter she had already suffered through 20 minutes of panic.  As she walked up she saw her four choir friends sitting on the side, waiting to go on and do their quartet devotional.  She looked at them looking at her and she knew they saw the same thing as her husband.  She turned to face the congregation blushing a deep crimson. There was nothing she could do about it.
Chapter Four
She forgot to tell the congregation what time the youth choir concert was going to be and forgot to explain about the fundraising needed to send the kids to choir camp next summer.  She tripped on her way back down the stairs but caught herself before she fell.  She sat down next to her husband, who whispered that she did a great job and no worries about the dress, it wasn't obvious at all. She wanted to kick him in the balls.
Chapter Five
Afterwards, everyone said she did a great job. Many of the women complemented her dress and asked where she got it.  Two guys from her husband's mens group also complemented the dress.  She wanted to kick them in the balls too.  She dragged her husband out of the Fellowship Hall the second the niceties were over.
Chapter Six
Her husband was in the dog house for the whole week. As a result he missed out on their weekly night for having sex.  She told him that he deserved far worse so he better not complain.
Epilogue
In later years Liz said that it was that moment, as odd as it sounds, that changed the direction of her life. She ended up leaving her husband and her church a year later. She moved to Florida with their kids, taking a job as a music teacher at an inner city high school.  She started caring much less about what people might be thinking of her and her clothes and as a result was very happy.  She ended up having polka dots and circles in almost everything she wore.
____________________
Drawing and story by Marty Coleman
___________________