I hope this public service series on how to draw a napkin is helping you.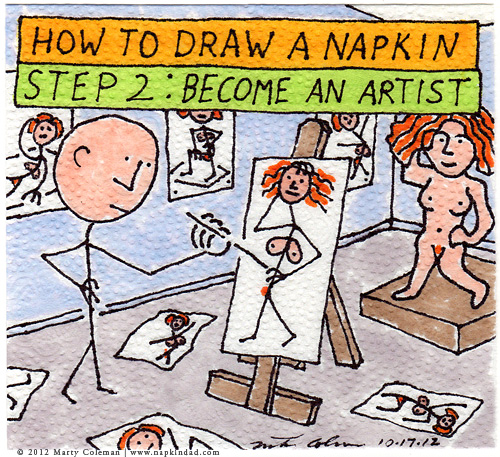 Steps 2a-2d: Repeat steps 1a-1d
Step 2e: Go to art college or at least a big empty space and draw naked people a lot. Men, women or hermaphrodites are acceptable.  
Step 2f: Move from drawing naked people to painting naked people. Use pretty colors.
Step 2g: Practice being an artist for 30 years (this is an important step, don't skip it).
_____________________
Concept, drawings and commentary by Marty Coleman
_____________________
Fact of the day:
Top ten most popular subjects in art (according to a survey conducted by Art Business Today magazine (UK)
1. Traditional landscapes.
2. Local views.
3. Modern or semi-abstract landscapes.
4. Abstracts.
5. Dogs.
6. Figure studies (excluding nudes or nakeds).
7. Seascapes, harbour, and beach scenes.
8. Wildlife.
9. Impressionistic landscapes.
10. Nudes (this includes Nakeds as well).