Come on, let's have a show!  Here is what you do next in your journey to draw a napkin.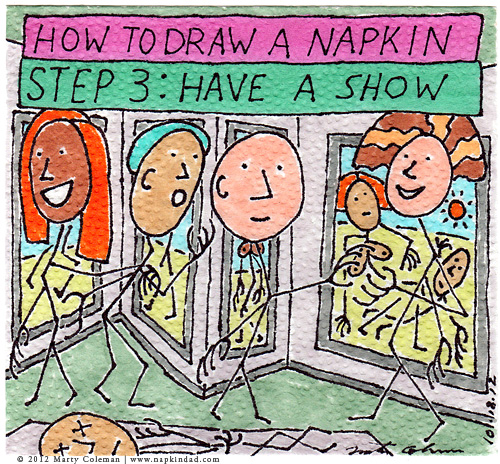 Step 3a-3d: Repeat steps 1a-1d
Step 3e: Draw yourself at your big exhibition opening greeting all the admiring guests.  
Step 3f: Color in the drawing of yourself at the big opening.
Step 3f: Make sure to include your art and the rich and famous collectors, dealers and critics who will be there.
Step 3g: Show yourself complimenting them on their outfit and hair (if they have any). 
Step 3h: Show yourself selling your work. Tell them the piece would go well over their bed.
_______________________
Concept, drawings and commentary by Marty Coleman, who is no relation to the artist in the drawings. Really.
_______________________
Fact of the day:
There are over 60 Museums on the Island of Manhattan, New York City.
_______________________