Here's another of my 'marker test napkin that I turned into something' napkin.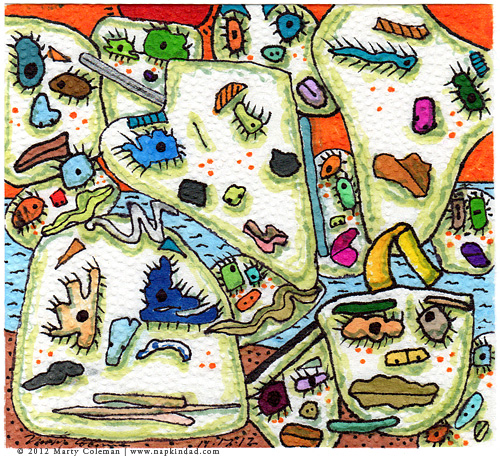 Prints are still available. $25.00
---
A Short Short Story about Ghosts
The 13 bodyless girl ghosts tried to get in the beach club but the doorman wouldn't let them in. Though they were very pretty, they didn't meet the dress code.  They pressed up against the club window and watched everyone inside dance the night away. That made them sad and they cried a lot.
They later went home to the bodyless girl ghost bunkhouse and talked about how they had to figure out how to get bodies.  Their plan got as far as the question, 'Who do we know who doesn't have a head?' before they fell asleep and dreamt of having to pee. 
________________
Drawing by Marty Coleman, who thinks they should have been let in.
________________
Amazingly unproven and totally ludicrous trivia of the day
Ghosts love the smell of lemons
________________