An Apology
First off, my apologies if you tried to get to my site yesterday. It was hacked and down for most of the day.  With the help of a great PHP coder, Jim Gillispie, I was able to get it back up and running just in time for a momentous week ahead. Thanks Jim!
SXSW
I am headed to the SXSW (South by Southwest) Interactive Conference in Austin, TX tomorrow. I am leading a workshop called, 'The Compelling Image in the Age of Social Media' on Friday.  I wanted one more napkin for my presentation so I drew this one.  
If you are headed to SXSW and would like to attend my 'workshop', get your name on the waiting list as soon as you can and hopefully a spot will open up.  The best and quickest way to contact me there will be via twitter. My handle is @thenapkindad.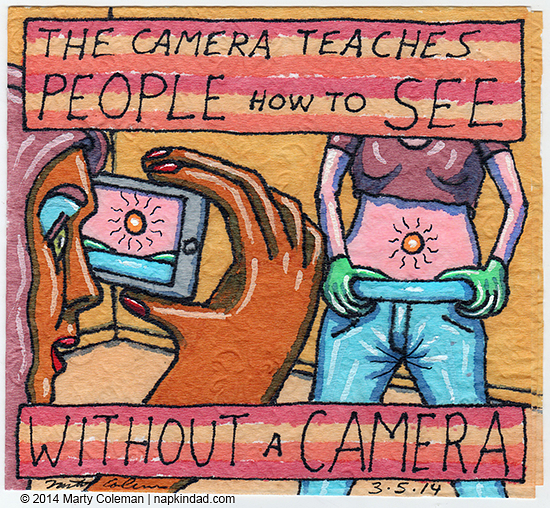 Seeing With a Camera
One of the best quotes about photography is this if/then proposition:  "If you want to take a beautiful photograph, then stand in front of something beautiful and press the button."  This proposition is true but there is a variable within it.  That variable is what you consider to be beautiful.  For me, a series of questions follow from that variable: Is my mind open to seeing beauty that isn't readily apparent? Can I see beauty in details, in unexpected and hidden places, within something larger that may not be beautiful?  Can I escape judgment long enough to explore an alternative appreciation for something?
I believe my camera can often be a gateway to that freedom, both for me as the photographer in the moment of discovery and later for the viewer of the image in the moment of revelation.
________________
Drawing by Marty Coleman
Quote by Dorothea Lange, 1895-1965, American photographer
________________