How did The Napkin Dad end up being such a sexy hunk modeling a 'Don't Hate the 918' t-shirt?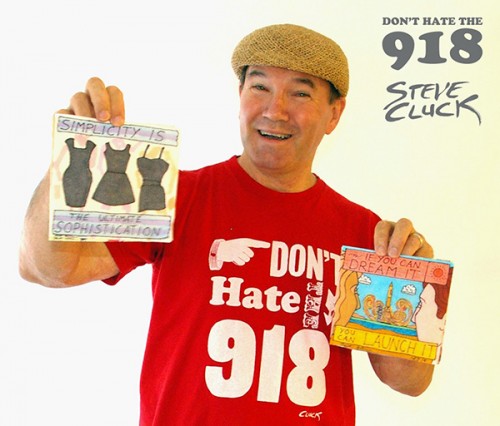 This is a photo of me taken by Steve Cluck, a Tulsa artist and entrepreneur. One element of his business is producing and selling the famous 'Don't Hat the 918' t-shirts (for those of you out of the state or the country, 918 is Tulsa's telephone area code).  He is doing a photography project that consists of 918 people from the Tulsa area wearing his 'Don't Hate the 918' shirt.
Beth
A few months ago a friend of mine, Beth Hawkins of Beth Hawkins Video and Photography, posted a request on Facebook looking for some people to be in a promotional video she was shooting downtown. It was on a day I had to be in Tulsa to coach so it would be easy to just go a few hours early and take part, which I did.  
Steve
One of the other people acting in the video was Steve Cluck, who I had never met.  We had to wait while shots were set up and got to talking about his t-shirt business and my Napkin Dad endeavors.  He told me about his project to photograph 918 people from Tulsa in his 'Don't Hate the 918' t-shirt.  When I explained who I was he recognized my moniker and invited me to participate.
That was enough for me and a few months later Linda and I went over to his studio and took the shots.  
Showing Up
Have you ever heard the old saying "90% of success is just showing up."?  Well, it's true.  I answered Beth's call because I like her and want to support her in her work. I also thought it would be fun. She also promised free pizza so there's that too.  Showing up is not just about showing up for things you are obligated to show up for, that should be a given. It's also about being proactive and grabbing hold of things to show up for. Using your own initiative to go do something, to help, to participate, to explore your world.  The results are usually unexpected and positive, as in meeting and networking with people who are good for your business, your social life, and your friendships. 
___________________