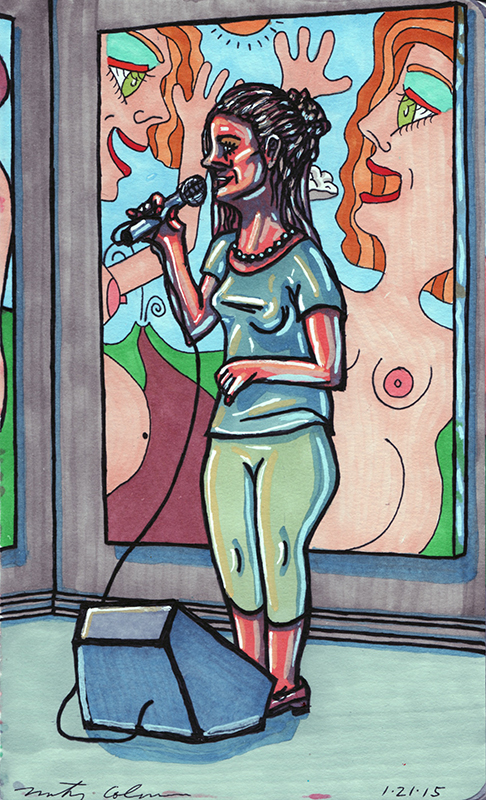 Chapter One
The artist, Bethany, was having her first solo art exhibition in 3 years. She had done a series of paintings of nude biblical figures. The painting she was giving her gallery talk about was titled 'Mary and Elizabeth'. It depicted the New Testament story when Mary went to visit her cousin Elizabeth after she found out she was pregnant and Elizabeth's baby jumped in her womb when the two of them greeted on the road in front of Elizabeth's house.
Chapter Two
Bethany was explaining why in particular she painted Mary, the mother of Jesus and Elizabeth, the mother of John the Baptist, nude.  The paintings had caused a lot of controversy, even having been mentioned on cable new shows.  Fox News had condemned the exhibition, saying it was disgusting and disrespectful.  Others had been not so opinionated but still said they didn't think the exhibition was worth seeing.  "Unbiblical" was what one mainstream news outlet had said.  A satirical website had called the piece 'umbilical', which Bethany thought was pretty funny.
Chapter Three
The artist told the story of her own life, having been raised by nudist parents in California.  She said she loved being raised that way and that it taught her so much about not judging people based on outer beauty or style.  When she went away to college to major in art she was drawn to figure drawing classes. She hit upon the idea of painting biblical figures nude when she went to Europe and saw many allegorical, historical, and mythological paintings that included nudes.  She noticed however that paintings illustrating the Old and New Testament almost never had complete nudes in them. She decided to do a series on New Testament stories as a result.
Chapter Four
She had two of her friends pose for the piece.  One was KimLee who was raised in an evangelical family who would not approve.  They had met in college when KimLee had come into the Student Union gallery and looked at Bethany's paintings.  They became friends. KimLee had already posed secretly for her a number of times. She had always been shown without her face or Bethany had changed her face so she wasn't recognizable, which Bethany promised she would do this time as well.  The other was the Gallery's assistant curator, Suzy, who had been pregnant with twins when Bethany came up with the idea.  Not many people knew it but Suzy had been an 'adult entertainer' in college. She loved the idea of being in the painting.  She wanted to be Mary in the the painting because she thought it would be cool if a stripper was Jesus' mom.
Chapter Five
KimLee and Suzy met for the first time at the gallery talk.  It turns out their babies were born just two months apart a little more than a year earlier.  They hit it off while contemplating the painting after the gallery talk, comparing notes about what it was like to pose and to have their naked bodies out in public for all to see.  KimLee explained how no one knew it was her and Suzy explained how everyone knew it was her, including some former 'clients' who had come to the exhibition not realizing Suzy was no longer a stripper but a respected gallery worker.  They both laughed at how they had come from such different directions to arrive at the exact same spot.
Epilogue
KimLee and Suzy became great friends. They had playdates for their kids together, went to lunch once a month and eventually started a company together that had sales topping one million dollars last year.  Their sons became best friends and both became elementary school teachers.
Bethany's next show was of self-portrait nudes. It led to her being kicked off the PTA.
The End
___________________