This week we have been on vacation in Europe.  We just finished 5 days in London and are now on the EuroStar train to Paris for another 5 days.
---
The Nest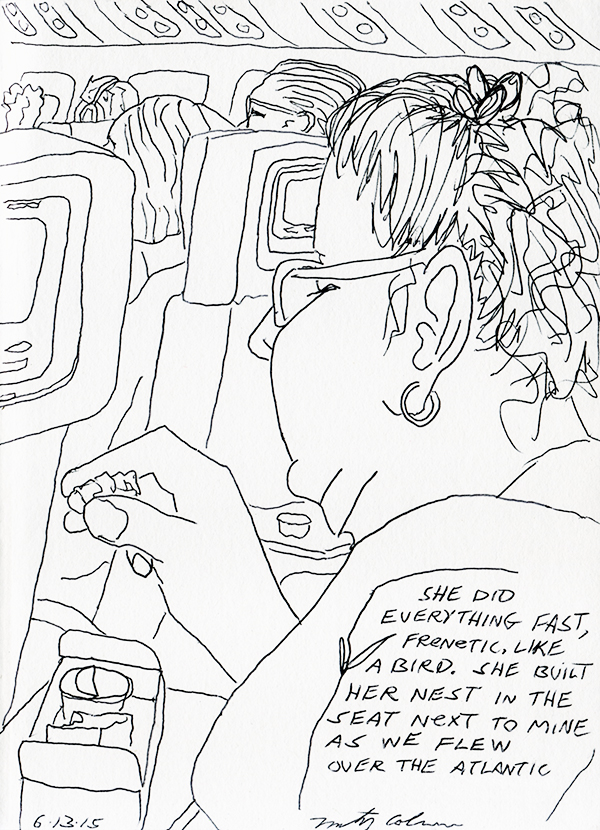 During the international portion of our flight to London I sat next to this woman. She was frenetic pack rat who made her nest in the seat next to mine. It was pretty humorous. I felt like I was watching a Discovery Channel documentary on the odd nesting habits of humans.
---
We stayed at an Airbnb apartment in the Lavender Hill area of London. Each morning before my wife and daughter were awake I went to a little coffee shop, Il Molino, had a Caffe Mocha, a pastry and drew the people around me.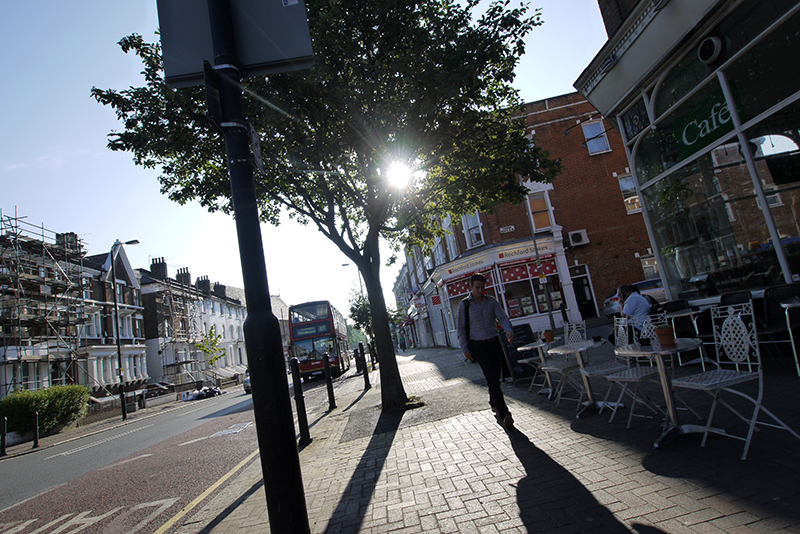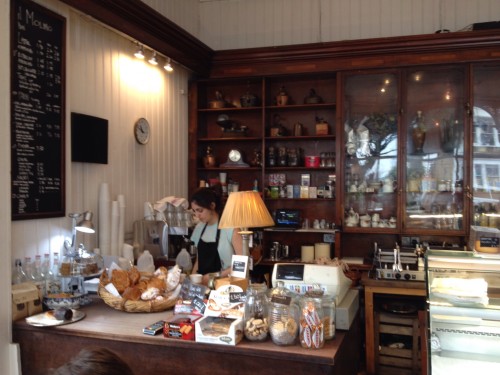 The Barista Libusa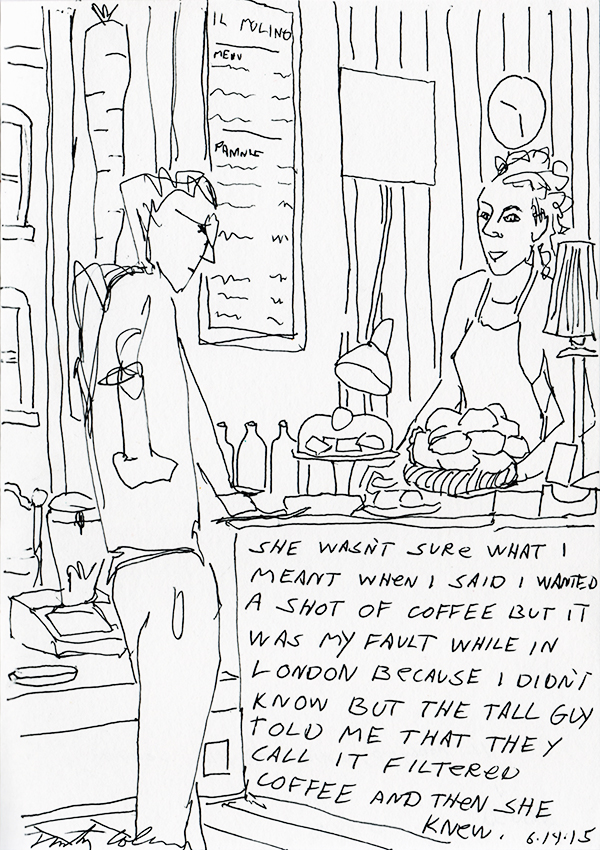 The first drawing I did was of a customer ordering something from the barista. A bit later I showed the barista the drawing that I had done  of her. She was very happy seeing the drawing. The barista's name was Libusa. This was at the same time I ordered tea and croissants to bring back to the apartment for Linda and Caitlin. I tried to pay, but couldn't due to having forgot my wallet back at the apartment. I offered to leave my iPad with Libusa to guarantee I would come back but she was fine with me going to get it without doing that.
Here is an edited Periscope video that shows me doing the drawing.

---
The Dreamer Giada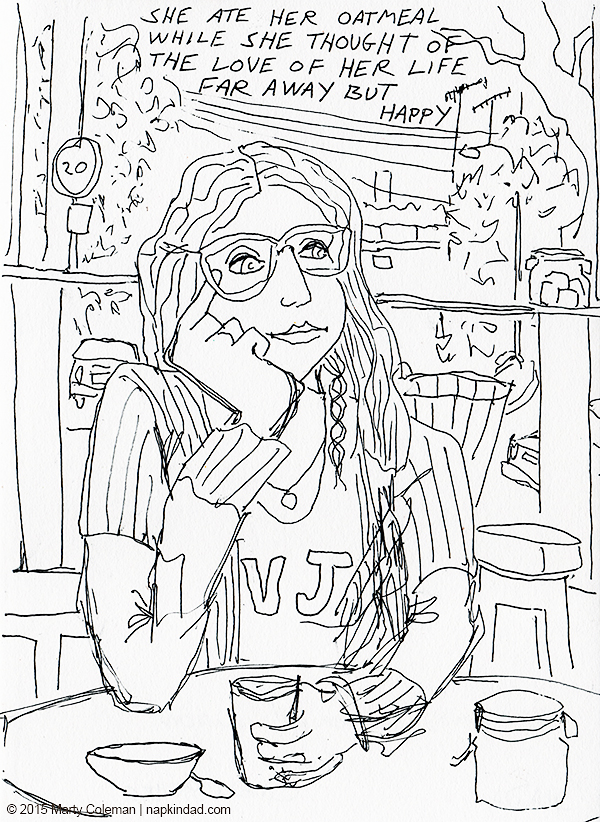 When I returned with my wallet I drew a young woman eating her oatmeal at a table nearby. She finished up and left and I continued to draw the rest of the scene.
While I drew I Periscoped live. Periscoping is live video broadcasting with  texting interaction. In other words while I am on the air people can watch me draw, I can talk to them, and they can text comments, questions, etc. to me (and each other). The texts scroll up the screen and slowly disappear.
I was showing them this drawing and asking what I should write about her in my little space I reserved for the story. One my followers, @VictoriajamesUK  said she should be in love and be waiting for her lover to return.  Later Victoria told us that her husband was away inn Scotland and she was waiting for him  to return  and that was why she said that. In honor of her I put the initials VJ on the model's shirt.
A bit later  I showed Libusa the drawing that I had done of  the woman eating the oatmeal, and told her I didn't get to show it to the woman because she left quickly. The second Barista standing behind the counter said,"Oh, that is ME!  I didn"t leave, I just went behind the counter." She was even more excited about having been drawn than Libusa was. Her name was Giada.  I later took a photo of her with her drawings.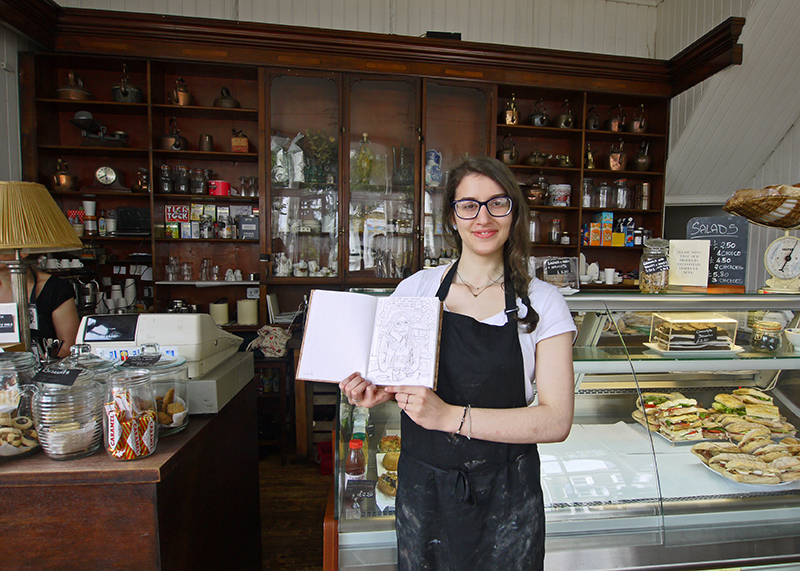 Here is an edited Periscope video of me doing the drawing.

---
The Customer with Crutches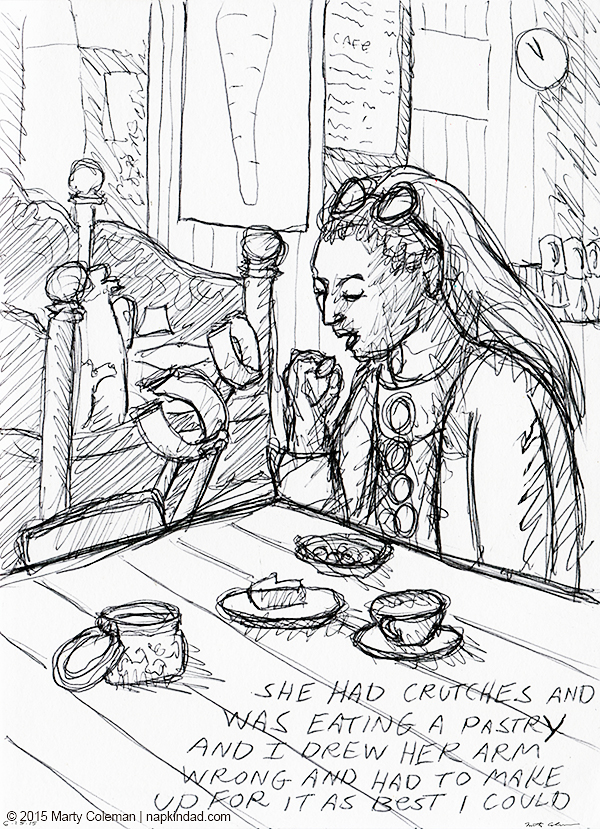 The next morning I returned  to Il  Molino and drew  again. This time their was a woman with a pair of crutches that caught my eye  and I drew and periscoped until  Linda and Caitlin came to pick me up before we headed out for a day of sightseeing. She left quickly and I wasn't able to get her name.  I wasn't too pleased with the drawing and realized that even though I love to periscope as I draw I still need to keep my creative process intact and not get too distracted talking to others. It's learning process no doubt!
---
The Periscoping Self-Portrait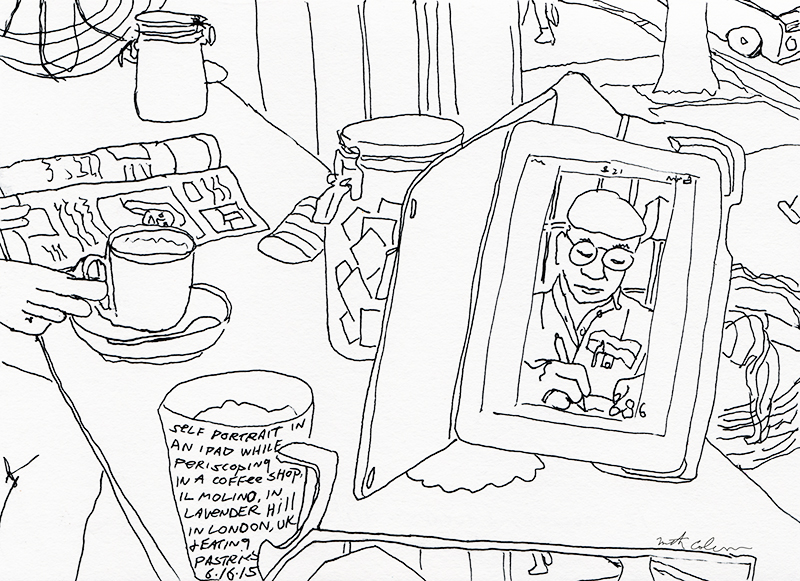 On our final day in London I didn't have anyone in the coffee shop to draw so I drew myself periscoping. I scope using my iPad. I prop it up far enough away so the drawing can be seen as I create it.  I highly recommend you get and use the app for your phone or ipad. It's fun and insightful. You can find me at @thenapkindad.
---
The Inanimate Wish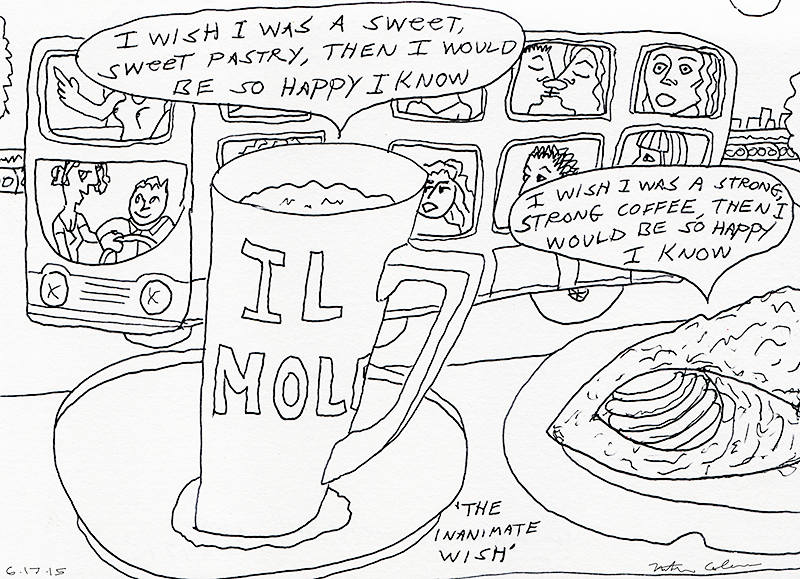 And finally I did a drawing that was only partially based on what I was seeing. I had the coffee and pastry in front of me but the bus was made up obviously.  Just a fun goofy drawing, more like my napkins to end my time in London.
Tomorrow it's Paris!
---
Drawings and Videos © 2015 Marty Coleman
---