Spiders!
'tis a rare day when I go to hang out at a coffee shop. Friday I had to leave my house for 2 hours because we fogged the attic for spiders. My wife has had spider bites a number of times this year and so we have started having the house sprayed. We have had quite a few spiders this spring and summer, in particular the dreaded brown recluse (probably not what bit her, but we aren't sure), one of the nastiest spiders there is. If it bites you it can have your flesh start to die.  I've seen it in action on an ex-girlfriend's daughter's leg and it's BAD.
Because of that I went to the new Starbucks in our quaint little hamlet here in Oklahoma to draw, periscope and drink some coffee. A young woman, styled impeccably, walked in right before me and I knew, if she was staying, I would want to draw her.  Luckily she did.  Below is the drawing I did on a Starbucks napkin.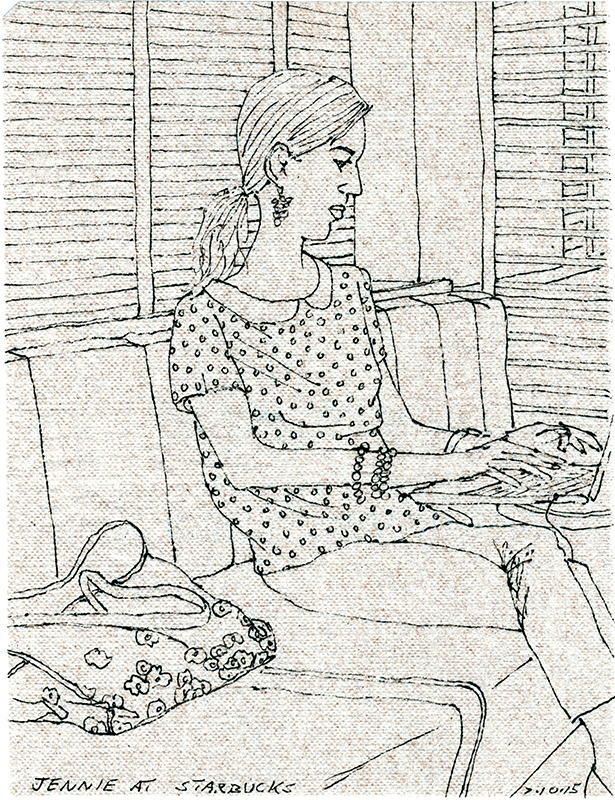 Asking Permission
Most of the time I don't ask permission to draw someone. But in this case the tables were arranged so I would have to sit very close to her and I was going to be periscoping my drawing, which meant I would be talking to my iPad and picking up my drawing and turning it around to show my viewers.  It was going to be obvious what I was doing and so I wanted to ask her in advance, which I did. She graciously allowed me to proceed.  You can see a photo of her with the drawing below.
Periscope
I periscoped the entire time I was drawing.  The app quit about 20 minutes in and I had to restart.  I was able to get part 1 of the video processed so both the comments and 'hearts' are showing.  Part 2 had expired by the time I tried to process it (Periscope only keeps videos available for 24 hours). However, I was able to save it without the comments and hearts.  You can find me on Periscope at @thenapkindad (same handle as I have on twitter and instagram).
Part 1
Put the video on full screen to be able to read the comments.
Part 2
– this one does not have any comments or hearts, sorry about that. I am still learning how to integrate Periscope into everything else!
---
Jennie
Here is Jennie with the drawing after I finished.  She was very kind and sweet as well as stylish. I really appreciated her allowing me to draw and periscope her. I gave her my card and hope she sees this.  Thank you Jennie!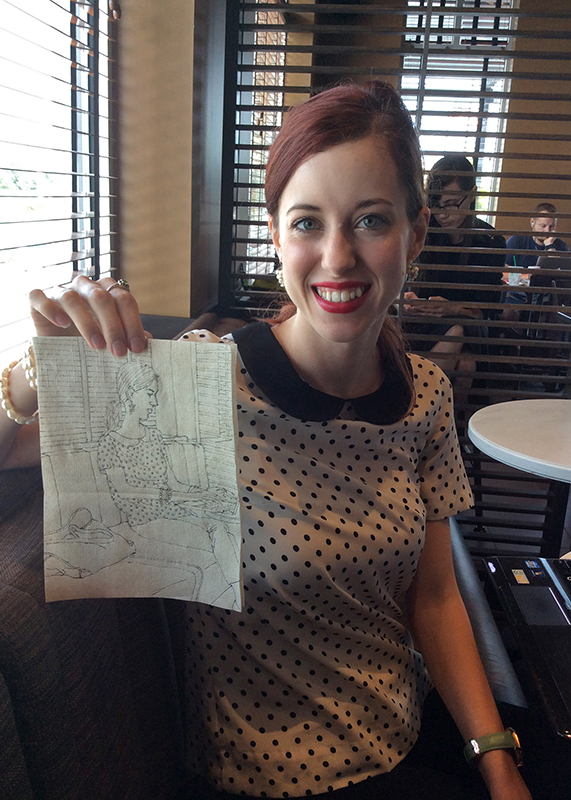 ---
Drawing, photograph and videos © 2105 Marty Coleman | napkindad.com
---