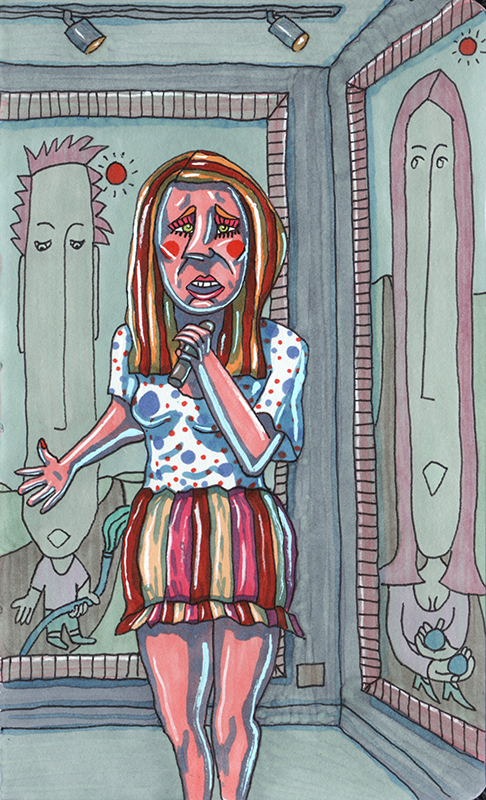 Prologue
Oriole had her first one person show at the Gallery Heron.
Chapter One
Oriole got the skirt she wore to the opening at 'Upscale Retail' a consignment shop in the fancy part of town. Her sister, Wren, said the skirt looked great on her and that she had the perfect blouse to go along with it. They went over to their mother's house and found the blouse in spare bedroom closet. Oriole wasn't at all sure the two went together but her mother, Robin, said that contrasting patterns was the new thing and it looked great. Their little sister, Myna, thought it looked stupid but she thought everything looked stupid so they paid no attention to her.
Chapter Two
Oriole had her friend, Ibis, do her hair and make up. She had been a hair stylist and cosmotologist before she had triplets. She told Oriole that the striped hair was the newest thing and that a dark circle of rouge on the apple of her cheek was also a new trend (she called it rouge instead of blush, trying to be old fashioned).
Chapter Three
Oriole was at the gallery an hour early. She wanted to make sure the paintings were hung correctly and that the food was laid out just right.  She found that the piece called 'Balls' was hung next to the piece called 'Hose' and it shouldn't have been. She didn't like the sexual innuendo of the two of them side by side because neither painting was really about sex at all.
Chapter Four
She went to find the gallery owner, Miss Heron, and complained to her. But Miss Heron said it was too late to change the location of either painting. She reassured Oriole that no one would notice that they were next to each other and to just not worry about. Oriole was nervous but agreed to let them stay where they were.
Chapter Five
The opening was a big success. Many people came to it and 4 paintings sold. There were many compliments on the food. Three people said they liked her skirt. Nobody mentioned the two paintings next to each other, though Oriole did see two girls laughing while looking at them. Her family came, including her Aunt LittleHawk, who had gone on a spiritual retreat in Navajo territory and changed her name from Fiona Finch.
Chapter Six
Two days later Oriole was awakened by a call from Ms. Heron, the gallery owner. She told her to get the newspaper and look at the front page of the 'Art Scene' section. She said there was a big photo of her welcoming the guests at the opening and a rave review alongside it.  Oriole didn't get the newspaper so she had to get dressed and go downstairs to the corner store to buy a few copies. 
The review praised her use of paint, her witty ability to have content and humor together, and the subtle but insistent message of sexual power among women.  She particularly liked the two paintings, 'Balls' and 'Hose' being next to each other. The reviewer, Henrietta Hornbill, said it was the most auspicious inaugural one person show in the city since Nick Sparrow had shown his sculptures of handcuffs made out of different colors of Jello.
Chapter Seven
Oriole was very confused. How could any one get a sexual control message out of her paintings? She had never thought about that at any time in the creation of the paintings. She called her oldest and dearest friend, Dovey, (who lived in Cardinal City, California and couldn't make it to the opening) and asked her if she thought there was a sexual message in the paintings. Dovey said, "Duh, I've always known that. I am not surprised it was what the reviewer saw."
Chapter Eight
Later that day she got a call from Onea Owl of NPR asking if she would be available for an interview, maybe at the gallery, about her work. They wanted to do a story in the next week about sexuality and wanted her included as an artist leading the way in feminist interpretation of sexual issues. She said yes, mostly because she hoped to meet that lady with the hard name to pronounce who was always on in the mornings.
Chapter Nine
Three days after that she got an email from someone supposedly from Vogue magazine. She thought it was a joke but she recognized the name of Winny Warbler at the bottom of the email as someone who had been a judge on that reality TV show about fashion. Ms. Warbler wanted to do a photo shoot with her as part of an editorial piece on stylish female artists in the city. She was hoping to get Jinny Crow and Penelope Plover as well.  
Oriole called her and asked why she wanted her in the editorial shoot. Winny explained that while the striped hair, clashing patterns and bright circularly rouged cheeks had all been trending separately, Oriole had been the first one to have put them all together so successfully.  Oriole was even more confused but decided she was going to go with the flow.
Chapter Ten
Oriole became a wildly successful artist in the city, then nationally, then internationally. She was the biggest hit at Art Basel in Miami the next year.  She was chosen for the Venice Biennale and the Whitney biennial the year after that. She was the first artist on the cover of Vogue, first on the cover of Time since Picasso and first on the cover of Art Forum since 'the artist formerly known as art'.
Chapter Eleven
Oriole flew high with her fame for 45 years. She became incredibly wealthy with homes in New York and St. Tropez. She had her retrospective in 4 museums simultaneously. MOMA showed her paintings, LACMA showed her sculptures and Tate Modern showed her prints and drawings. Her erotic art was at the museum in St. Tropez.
Epilogue
The most amazing thing about her career though was her departure from it. After the retrospectives closed she sent a press release out saying that she was going to retire from painting and focus on bird watching. She sold her homes, donated her remaining paintings to various museums around the world and disappeared from the art world. She moved to Saskatchewan, Canada and watched migratory birds the rest of her life, which lasted another 20 years. She died in her sleep in her small cabin in the north woods. Though it was never thought that she ended her own life, she was 95 after all, there was a note on her desk that made some people think she had known the end was near.
It said, "I saw all the important people in my life fly by today. I can die happy now."
The End