This is #2 in my series on Kindness, inspired by my periscope friend Natalie Hamilton's (@hammyton) #bekind101 challenge. She is scoping for 1o1 days in a row on kindness. Each day she gives out another challenge on how to be kind. She asked me to draw something for her under that theme and I am doing a whole series as a result.
---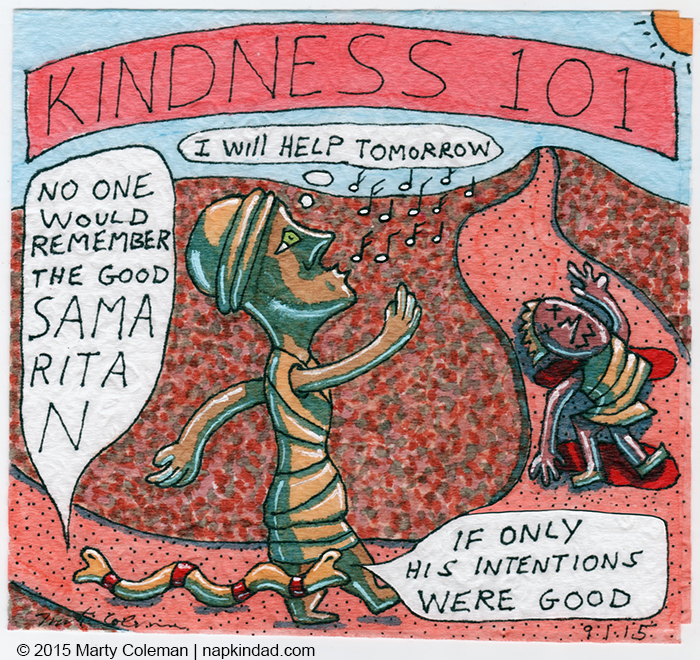 The Assumed Bad
If you were a religious Jew back in Jesus' day you knew the rules. The rules were pretty simple. Don't congregate, talk to, touch, befriend or help those of other tribes. One tribe in particular stood out as being one to avoid. The Samaritans. They were dangerous, crude, mean, and evil. They were to be avoided at all costs.
The Assumed Good
If you were a religious Jew back in Jesus' day you knew who was at the top of the God heap, the Levites. They were the tribe from which the priests of the temple came. Not all Levites were priests but all Levites were given special privileges and had higher expectations placed on the due to them being from that tribe.
The Parable of the Good Samaritan
Jesus tells the story of a man who gets robbed, beaten, stripped naked and left for dead along the road to Jericho. A Jewish priest walks by and crosses to the other side of the road to avoid the doomed man. A Levite also walks by and crosses the road to avoid the man. Then a Samaritan comes upon the same man. He does not cross the street to avoid him, helping him instead. He tells the story in response to a question from an expert in the Jewish law.
Here is the passage. It is from Luke 10:25-37 in the New Testament of he Christian Bible.
25 On one occasion an expert in the law stood up to test Jesus. "Teacher," he asked, "what must I do to inherit eternal life?"
26 "What is written in the Law?" he replied. "How do you read it?"
27 He answered, "'Love the Lord your God with all your heart and with all your soul and with all your strength and with all your mind'[a]; and, 'Love your neighbor as yourself.'"
28 "You have answered correctly," Jesus replied. "Do this and you will live."
29 But he wanted to justify himself, so he asked Jesus, "And who is my neighbor?"
30 In reply Jesus said: "A man was going down from Jerusalem to Jericho, when he was attacked by robbers. They stripped him of his clothes, beat him and went away, leaving him half dead. 31 A priest happened to be going down the same road, and when he saw the man, he passed by on the other side. 32 So too, a Levite, when he came to the place and saw him, passed by on the other side. 33 But a Samaritan, as he traveled, came where the man was; and when he saw him, he took pity on him. 34 He went to him and bandaged his wounds, pouring on oil and wine. Then he put the man on his own donkey, brought him to an inn and took care of him. 35 The next day he took out two denarii and gave them to the innkeeper. 'Look after him,' he said, 'and when I return, I will reimburse you for any extra expense you may have.'
36 "Which of these three do you think was a neighbor to the man who fell into the hands of robbers?"
37 The expert in the law replied, "The one who had mercy on him."
Jesus told him, "Go and do likewise."
Action vs Intent
The reason this story is known is because the Samaritan took action. If the Samaritan had just thought about doing something good he would have been doing the same thing the priest and the Levite were likely doing, saying to themselves, 'It would be good to help but I am in a hurry. The robbers might still be around. The guy might be faking it and wanting to rob me himself. I don't really have the skills to help him or any number of other self-serving rationalizations and even some valid reasons.
The Samaritan took action. Kindness requires action. You can't be kind in your head alone. If your kindness does not come out in your words, your hands, your feet, your actions, then it really doesn't exist at all.
---
You can see the creation of this drawing and a very interesting and intense discussion about it and many other things on my periscope broadcast.

---