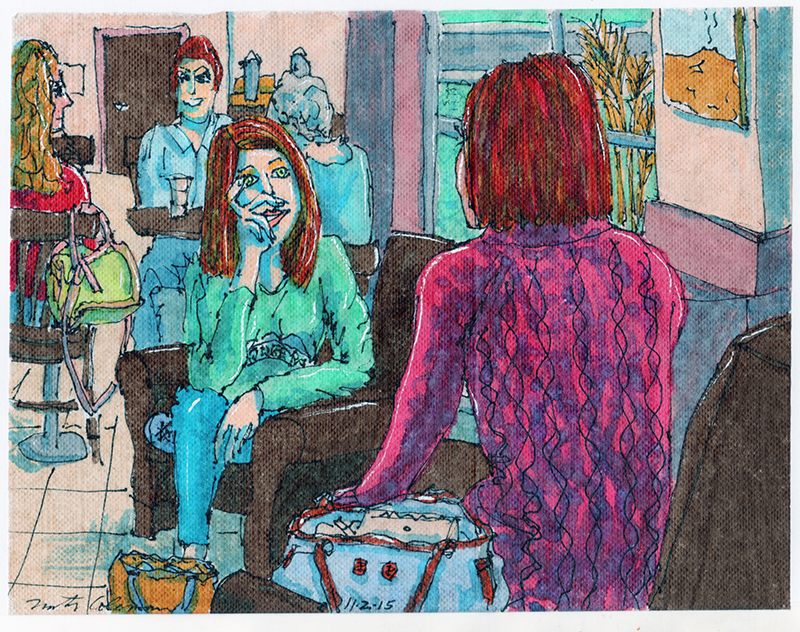 They sat attentive, leaning forward, interested in what one another had to say.  The coffee shop buzzed with noise around them but they were not distracted. I sat in the corner and drew.
The woman facing me had a green sweatshirt on with the logo of 'New Life Ranch' on the front. I knew the place well. It was a summer camp in Oklahoma, near the Arkansas border, and my daughters had gone there a number of times. We even went there for family camp twice.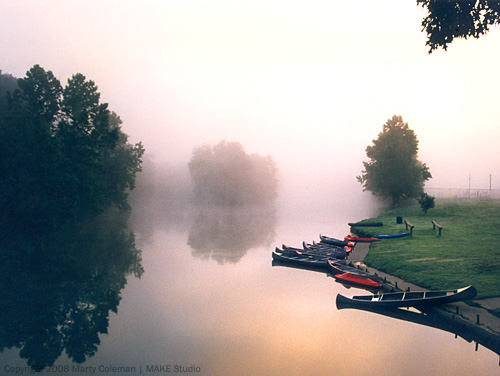 It was the place I took two of the best photographs of my life.  Both were of the creek that ran through the camp, early on a fog enshrouded morning.  One was just the creek, but the other was of my youngest daughter reaching for a rope swing so she could swing and drop into the creek. We had heard the night before that there would be a sunrise swim in the creek. Chelsea wanted to go so we got up very early and I accompanied her to meet the others. I remember sitting with her on this little bench waiting for everyone else, talking about how exciting it was going to be to jump in the cold creek.  No one else showed up.  We decided they were all wimps and she was the most courageous of them all.  She still wanted to do it so I took photos as she took the plunge.
Unfortunately, so far I have not been able to find the shot of her.  I am still looking!
---
Drawing and photo © 2015 Marty Coleman | napkindad.com
---