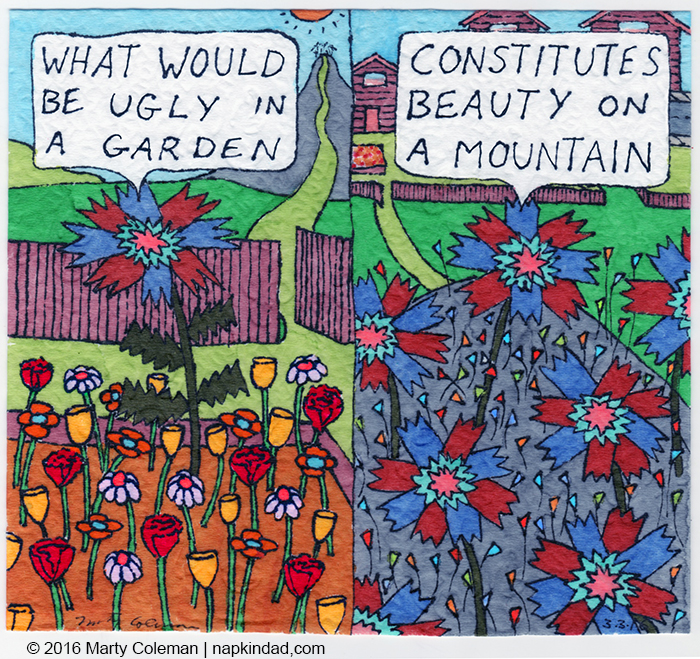 Buy the Original | Buy a Print
Once upon a time there were two sisters from a tropical island. One of the sisters was round and voluptuous, the other thin and angular.  The one who was round and voluptuous was very popular. She had boyfriends and was invited to parties all the time.  The one who was thin and angular would often tag along with her sister, the pretty one, to the parties and other activities. Her sister and her sister's friends were mean to her and the men showed no interest because she was not very pretty or sexy.  She knew she was ugly and just accepted it as the way it was.
After she graduated from high school the thin one had a chance to move to the city and live with relatives. She didn't see many prospects or options staying on the Island so she decided to go.  As soon as she had moved to the city she had started to notice men paying attention to her.  They would chat with her in cafes, flirt with her on the street, smile at her even when she took her young nephew for a walk. All of it was quite confusing for her since she knew she was ugly.
The thin one had only been in the city a few weeks when she was stopped on the street by someone who asked if she was a model.  She laughed at the man and told him she was not and could never be, a model. He begged to differ and gave her his card. He asked her to call him if she was interested.  She laughed all the way home but her Aunt, when she heard about it, said she should go check it out, that she actually was model material. The thin one laughed because she knew she was ugly and certainly not model material.
The thin one decided to go meet the man just to get her Aunt off her back.  And in what was the biggest surprise of her young life, the man was actually the artistic director of a very large and legitimate modeling agency.  They liked her and within a month she had her first paid assignment and within 6 months she was making a good living.
In the meanwhile the voluptuous one was hearing about this back on the island.  She was very confused, and a bit jealous, because she knew what her sister knew. She was the pretty one, the popular one, and her sister was the ugly one. But now she was hearing she was a model in the city? How could that be? It made no sense.  She decided to go visit and see for herself.
The first thing the voluptuous one noticed when she got to the city was how few men paid any attention to her.  She walked through the airline terminal, picked up her bag at the baggage claim, and even hailed a taxi and no one paid any attention. It was not something she was used to and it made no sense.  But she chalked it up to her maybe not being all that fresh looking after the long flight and forgot about it.
It didn't take her long to become annoyed by how opinionated her sister was. She wasn't nearly as meek as she used to be. She had even argued with her about what to wear when they went out to the party her sister had been invited to that night! The voluptuous one wanted to wear a revealing dress, one that showed off her cleavage (which was plentiful) and her legs.  Her sister told her that was not a good look, that she had to choose one or the other, show cleavage or show legs, not both. The voluptuous one didn't like that but decided to go with the leg look, just so they wouldn't have a big fight on their first day together in the city.
The party was very exciting. There were some people the sister who was visiting recognized from TV and from magazines, though she couldn't remember their names. Her sister introduced her to many people, so many she lost track.  She realized that her sister was one of the stars of the party, she was popular with men and women alike, older people and younger.  When the sister from the city would go off to chat and leave the sister from the island alone she noticed once again she got barely any attention from anyone, unless it was when someone came up to her to tell her how amazing her sister is.
It was then that she had her epiphany.  She saw it so clearly.  They had switched roles.  Here in the city her sister was the pretty one, and she was the ugly one.  She went to the bathroom and sat in a stall and cried.  When she came out her sister realized something was wrong.  She smiled inside, happy to see her sister, who had been so mean to her so often get a taste of what it was like to be the ugly one.  The sister from the island tried to explain to her how she felt but the sister from the city wasn't showing much sympathy.  By the time they got home to the Aunt and Uncle's house they were having a fight about it.
The Uncle and Aunt were still up when they got home and couldn't help but hear them fighting.  They invited them to sit in the kitchen and have a cup of tea, calm down a bit and maybe talk to them about it, which they did.  They both explained their version of what happened that night, which led to an explanation of what used to happen on the Island. How they both felt ugly and both felt pretty, all depending on where they were.  They talked about how they didn't want to feel that way but did in spite of that.
The Uncle said, "You know, your Aunt has gone through this too."  
They looked at her and said in unison, "You have?" 
"Yes.  I was voluptuous and popular on the Island just like you are. Then I came to the City and I didn't get nearly as much attention, just like you." she said to the voluptuous one.  "So I decided I would do whatever it took to become attractive to the people in the City. I worked and worked and worked.  Finally I started to get noticed.  I went on dates, had fun, had a lot of friends.  Then I was in that car accident you heard about many years ago and wasn't able to keep in shape after that. I became like I had been before.  Many friends left me and I wasn't asked on any dates anymore.  But there was one person who knew me when I first came from the Island, knew me when I became popular and pretty, and knew me after my accident. That person was always my friend, was always supportive, was always saying kind and complimentary things to me.  I saw him almost every day because he worked the counter at the grocery store I would go in.  You know who that is, right?  He's your Uncle."
The sisters had never heard that story before.  They smiled and told their Uncle what a great man he was. But he stopped them.  He said, "I was not that great a guy.  All I did was care about your Aunt.  I didn't know anything about 'popular' or 'pretty' in the city. All I knew was your Aunt was kind and thoughtful and smart. She also was very pretty to me, so I am not saying that wasn't there. But her 'pretty' came as much from her smile and kind words as it did from her beautiful face."
"What that taught me girls is this," the Aunt said, "You are planted somewhere in the world, it's called your home. But not everyone fits in perfectly to the larger home that is your island or your city.  Some look out of place to others in the city or the Island.  Some look like they belong.  You can't control what the rest of the Island or the City are going to think of you. What you can do is develop the things that matter, no matter where you are, city or island.  You develop those things and someone will be there to see them.  In my case I was lucky enough to have the boy at the grocery counter notice them. I am grateful for that."
The uncle piped up with a laugh, "And I am grateful this beautiful woman noticed me!"
The sisters went upstairs to bed. They talked a long time, apologizing for all the small and big slights they had laid on each other. They decided to be more supportive and loving to each other and others in the future. And they did just that.
And in the most ironic twist of all. The sister from the Island met the man of her dreams on the flight back to the Island. The man was from the city and was going on a business trip to visit some resorts he had contracts with. They talked the entire time and she knew by the end of the flight he was the man for her.  They ended up marrying and settling in the city of all places.  She felt loved and cherished the rest of her life. 
The sister from the city had a more roundabout journey to her true love. But it was equally ironic when it happened.  It was when she went back to visit her family on the island 10 years later. She was a famous model by then and everyone on the island knew of her.  Well, almost everyone.  There was a man in her home town who ran the local orphanage. He never really had time to pay attention to fashion magazines or watch TV and didn't know who she was.  But when she came with her mother to help at the orphanage one day, he watched her play with the kids with rapt attention. He noticed the care she showed, the willingness to get dirty, the smarts to figure out why the roof was leaking in one corner.  He asked her to come back again if she could. And she did, the very next day.  Within a year, after she had made many more visits to the island than she ever had before, they were engaged.  She moved back to the island permanently a short while later and they got married in a ceremony on the beach with all the orphans and her family all around.
She would occasionally do some runway modeling shows at the resorts but otherwise she was full-time at the orphanage, loving her life and her husband until the end of her days.
The End
---
Drawing and story © 2016 Marty Coleman | napkindad.com
Quote by Victor Hugo
---