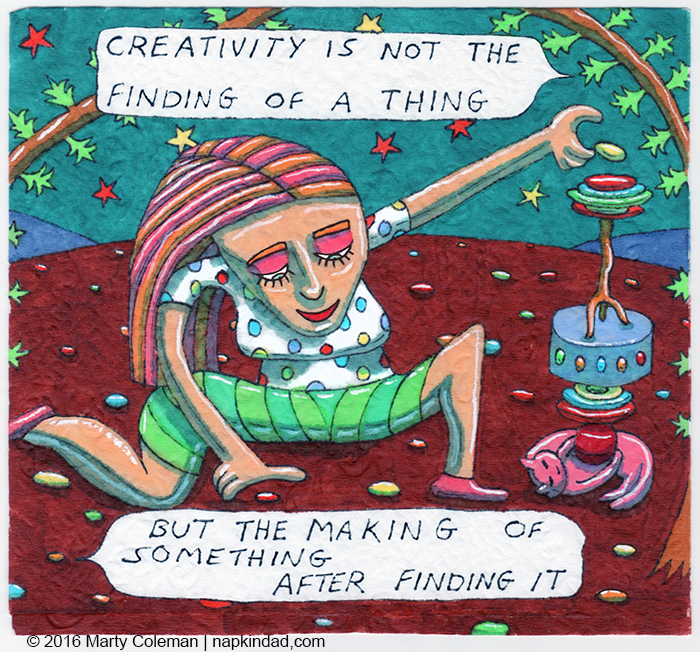 This is how I create.  I find something and I do something with it. It might be a napkin, a quote, an object, a person, or a combination of all of them.  But whatever or whoever it is, I will transform it.  I will combine, destroy, build, repurpose, take apart, hide, reveal and more. It's what makes art fun and interesting for me. It's how I think about things and people I see. I think about what I can do with them visually to say something of interest to me and others.
Here are some of the things I have transformed over the years. There are more, most of which you can see at the same flickr.com site that these links go to.
Rejection letters – a series I did in response to hundreds of rejection letters I got while applying for full-time teaching positions in the 80s and 90s.
---
Faces – A recent series I am doing on my iPad using my fingers (in most cases) to paint portraits based on photos and/or screenshots.
---
Mannequins and Games – Three Dimensional artwork that started with plastic or modeled mannequin heads that I turned into light boxes.  Also a foosball table I turned into a self-portrait.
---
Bible – Drawings done in the bible I used from the mid-90s until about 2000 or so.

---
Book – I started with the book titled 'Of Human Bondage' and collaged into various pages photographs of the body in bondage.
---
Famous artwork – I started with a book on Impressionism and glued onto the images photos of body impressions.
---
Drawing, commentary and all artwork © 2016 Marty Coleman | napkindad.com
Quote by James Russell Lowell, 1819-1891, American poet
---