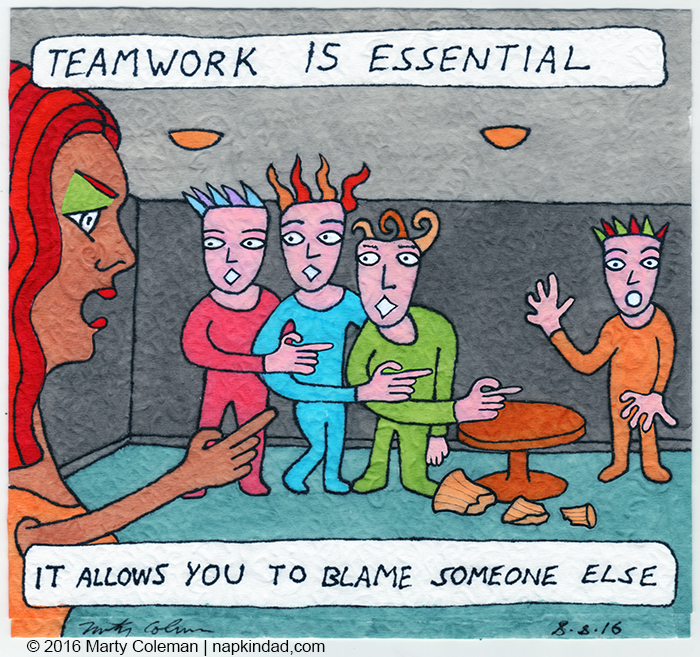 Buy the Original | Buy a print | Matte and Frame available
---
Blame and Glory
As funny as this is, it brings up a pretty good point. The whole point of teamwork is to not place blame on individuals. The blame, and the glory, goes to the team instead. You see this all the time in sports during interviews after games that a team has lost. "WE let our fans down", "WE didn't execute properly", "WE were slow to adjust" are all things you might hear from a coach or a player. No pointing at one person.
Even sports analysts not connected to the team do this. In American football, you often will hear an analyst talk about how a team is weak in a certain position. not that a particular teammate is not good enough.
Olympics
Yesterday I watched at Katie Ledecky was interviewed at the Rio Olympics. Her relay team had just won the Gold Medal in the 4x200m relay.  She came back from 1 1/2 lengths behind to crush the competition and was the main reason the team won. But you heard none of that from her. She only talked about the team's performance, not her own. Others pointed to her as the reason, but she pushed off the praise, turning it back to the team.
Knowing vs Saying
Does that mean she doesn't know she was the reason? No, she knew.  Among the coaches and athletes talked about above, did they not know who actually was to blame? Who dropped the ball at the crucial time, who didn't live up to expectations? Of course not. They all know. But they didn't say it outloud in public. In private, in the coaches room while figuring out the future team? Of course they talk about individuals and their performance. But in public? No. Because doing it in public is judgment. Doing it in private is evaluation. And the best teams thrive on neutral evaluation, not harsh judgment and condemnation.
---
Drawing and commentary © 2016 Marty Coleman | napkindad.com
Quote by Anonymous
---
"Teamwork is essential. It allows you to blame someone else."