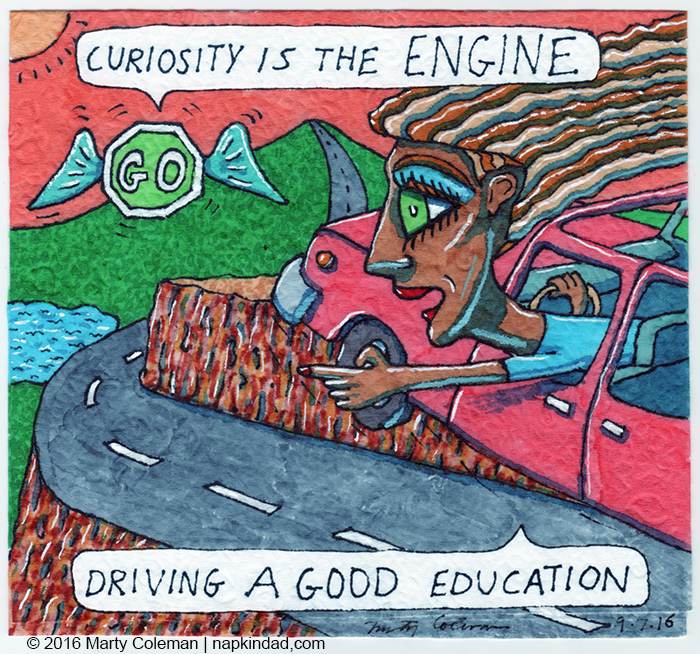 Purchase the original | purchase a print | matte and frame available
---
Home Schooling
When our daughter's were young we home schooled them for 3 years.  For the youngest, Chelsea, it was Kindergarten through 2nd grade, Connie it was 1st – 3rd, and Rebekah it was 3rd – 5th.  We didn't do it for religious reasons, even though we were within a church that had a lot of home schooling families.  We did it primarily because we could.  My wife at the time, Kathy, was a teacher and, after seeing so many others in the church do it, decided she could do it too. This took a lot for her since she was up until then not a very confident person.  But she believed it and we did it. It was a great time for our family and our kids. It was wonderful in many ways but the way that was most important in my children's life was this:  There was no idea of school is where you get educated and home is not.  On the contrary, everywhere is where you got educated. Home, street, groups, books, church, museums, nature, grandparents, etc. It didn't matter where you were, you were learning.
Curiosity
And that all-inclusive idea of education was driven by curiosity.  If you are learning about science in your back yard while checking out bugs, then it's very likely you will always be curious about the bugs in your backyard.  If you are learning about the history from your Grandfather who fought in WWII then very likely  you will always be curious about the lives older people have lived.  If you are learning about art from your dad, seeing him working in his studio every day, then you are likely to be curious about creativity in others for the rest of your life.  Curiosity is the engine.
Around The Bend
So, does that mean you or your kids have to have been home schooled to be life-long learners? Of course not. Home schooling was just a part of my daughter's upbringing that contributed.  Just as important was the example their mother and I set by being curious and willing to explore well after our formal education was over.  And all that really was was an enthusiastic curiosity about what was around the bend.  Instead of fear of the unknown I tried to instill in them a curiosity of it.
Not Reckless
Of course, that isn't the same as being reckless or stupid.  One needs critical thinking skills, good judgment and wisdom, but those things don't preclude being curious about life. They just allow your curiosity to proceed with a modicum of safety is all.
I encourage you to embrace your curiosity about life, don't be afraid of it.  It is much better to fear a life not lived then one that has been lived to the max, right?
---
Drawing and commentary © 2016 Marty Coleman | napkindad.com
Quote is anonymous with many variations from multiple sources
---
"Curiosity is the engine driving a good education"