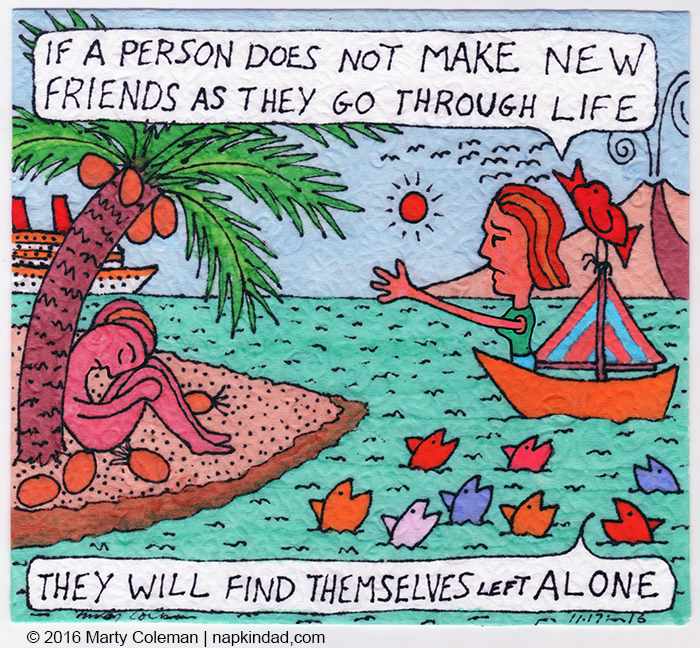 Purchase the original | purchase a print | matte and frame available
---
The New Friend
Last year there was a woman who came into our running group. She was enthusiastic, positive, friendly and caring.  I thought from the first that she must have already known a number of the other runners. But no, she told me she had just moved here by herself only recently. She told me she had done it many times before and had learned that if she was to enjoy her life as a single woman in new locations she would have to make a deliberate effort to go out and meet people. She did this by joining groups, in this case our running group. And sure enough she gathered a group of good friends in short order.
The Gone Friend
Then she moved.  Just like that she was gone. Now, in the social media world people aren't really ever gone, right? So, neither is she. I read her Facebook posts from her new location and guess what she is now enjoying?  She is now a hiker and a climber in the Rocky Mountains outside of Denver. And there is photo after photo of her with new friends she met in a hiking group she joined.
The True Friend
One other aspect of her appearance on the scene that I noted. She did not join our running group just to make friends, she also joined so she could be a friend. It wasn't just her getting her friendship needs met, it was also about what she could offer others. In other words she gave as much as she got.
The Courageous Friend
Now, she is an extrovert and makes friends easy. I know not everyone is like that. But everyone still has a need for friendship and everyone still has to take responsibility for finding those friends, now matter what your personality type. If you move to a new place, get a new job, or enter a new phase of life, chances are people are not going to come out of the woodwork to befriend you. Even if they do, you have to decide to accept and contribute to that friendship.
It takes some courage to go out and make friends, but the results are worth the challenge.
---
Drawing and commentary © 2016 Marty Coleman | napkindad.com
Quote by me, adapted from one by Samuel Johnson
---