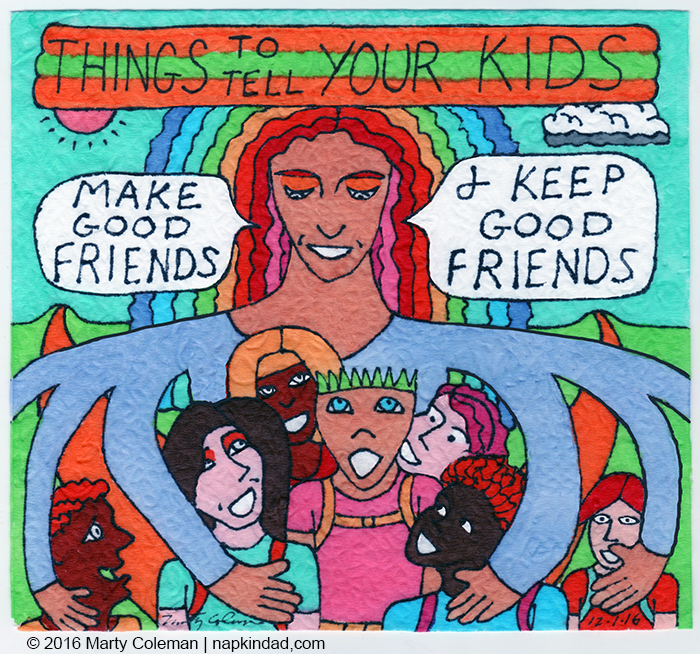 Purchase the original drawing | purchase a print | matte and frame available.
The Other Thing I Did
While I was drawing on napkins for my daughters back in the 90s I also was doing something else. I was saying goodbye to them at the door. Each day I would say pretty much the same thing. I would say I love you then I would say "Don't forget, Make good friends and keep good friends."  Why I came up with that particular phrase, I don't know. But I would say it every day.  And I meant it.
Community
What I wanted for them was a growing, vibrant community. A community doesn't happen without friendships, a growing community doesn't happen without new friendships and a vibrant community doesn't happen without diverse friends. That is why I said that to them.
The Purpose of Diversity
When I say diverse, I don't mean you have to have a rainbow of skin colors to prove it. I think that would help but only insofar as it's an outward visual of what is an internal diversity. In other words, the important thing isn't that your friend has dark brown, red, orange, alabaster or freckled skin. What is important is that you are experiencing, at least some of the time, a person with a life experience different than yours. A life experience you can learn and grow from knowing AND that your friend can benefit from by knowing you.
Courage Over Fear
How do you gather such friends? Yes, by going out into the world. But that isn't enough. You have to go out into the world with courage and an open heart or else you will simply be carrying your fear around with you and will miss meeting those new friends.
---
Drawing and commentary © 2016 Marty Coleman | napkindad.com
Quote by Yours Truly
---