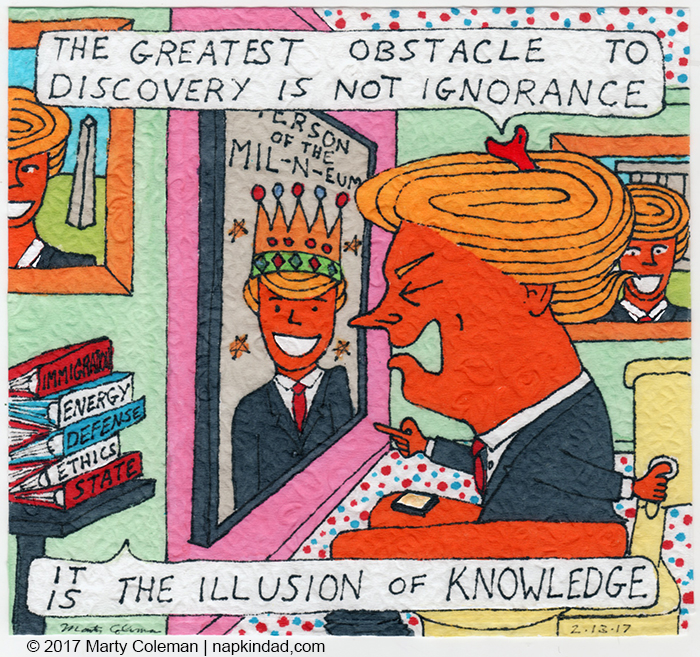 Purchase the original drawing | purchase a print
Sunday School Question
We had an interesting question asked of us in Sunday School this week (adults call it 'community group' but I like Sunday School).  The question was this:  Tell us of a time you changed your mind about something.
The answers were all over the map, from the profound to the trivial. Linda's was changing her mind about discomfort. She used to hate being uncomfortable and avoided exercise. Then she realized it is always temporary and she can get through it, so she has changed her mind.  Mine was changing my mind about what it means to be white. My paradigm about this shifted changed when I read the book, 'Between the World and Me' by Te-Nehisi Coates.  Another person said he had changed his mind about many social issues, going from being socially conservative to being more liberal.  Another person said she had changed her mind about salads and vegetables, having hated them and now liking them. That may seem trivial but I don't think it is because it will have profound consequences in her health and life.
I thought of this question when I came back and finished drawing this napkin. Discovery is often about changing your mind about something. You believe something, maybe subconsciously and unspoken or maybe not, and then you discover something new and it changes your mind.
The Threat is You
The problem, as this quote suggests, is that discovery won't come, and certainly won't be initiated, if you already think you know something so surely that you aren't willing to contemplate something that would threaten it. Without the willingness to discover, to be enlightened, to consider ideas uncontemplated, you must have a certain level of security and you must have a certain level of interest in something beyond yourself.
It is a very sad, pitiful and especially worrisome when the person unable or unwilling to discover new things is in a position of power over others.
---
Drawing and commentary © 2017 Marty Coleman | napkindad.com
"The greatest obstacle to discovery is not ignorance, it is the illusion of knowledge." – Daniel Boorstin, 1914-2004, American historian and Librarian of Congress.
---