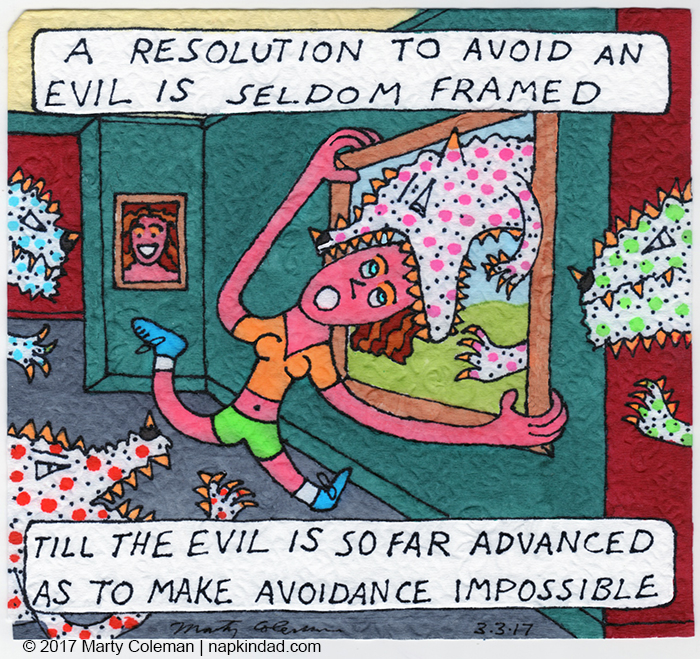 Being Framed vs Framing an Idea
You have heard of the term 'being framed'. It's when evidence is constructed and planted to make an innocent person appear guilty of a crime. I thought about this as I drew this illustration of evil. However, this quote uses the term 'framed' in a different way than that. In this context it means organizing of one's thoughts. You put a frame around an idea of event and what is inside the frame makes sense and what is outside the frame is irrelevant. It allows you to see something clearly without a lot of distractions.
So what do the two definitions of 'framed' have to do with each other and what do either of them have to do with evil? Both are built to clarify. One to clarify a lie, one to clarify a truth. Both allow someone to control a narrative of events. Both limit information; one for the better, one for the worse. And both are how we allow evil into our lives.
Blinded
One of my favorite lyrics is in a song by Mary Chapin Carpenter, 'Sometimes we are blinded by the very thing we need to see.' It perfectly sums up what happens when evil is right in front of us but we don't see it. It's most often because we don't want to see it. When that happens we will often rationalize (frame) what we are doing in other terms. It's innocent, it's an opportunity, it's fun. We reframe it so it's not evil, it's something else.
Brutal Honesty
In other words we fool ourselves. How do we avoid that? Brutal honesty is the only way. Now, when you are talking to or about someone else, brutal honesty is usually a code word for just being brutal to satisfy your own desire to feel superior. But when the looking in the mirror brutal honesty is the only way to avoid fooling yourself. Admitting your weaknesses, your inclinations, your habits, and your blind spots is how you stay safe. It allows you to frame yourself accurately.
Trusted Framers
That doesn't mean you have to tell the world about it all. But it probably would help to have a trusted friend or two who really know you, that you can admit who you really are and who will help you build frames that are accurate and real.
---
Drawing and commentary © 2017 Marty Coleman | napkindad.com
"A resolution to avoid an evil is seldom framed till the evil is so far advanced as to make avoidance impossible." – Thomas Hardy, 1840-1928, English novelist – Best known as the author of 'Far from the Madding Crowd' and 'Tess of the d'Urbervilles'.
---