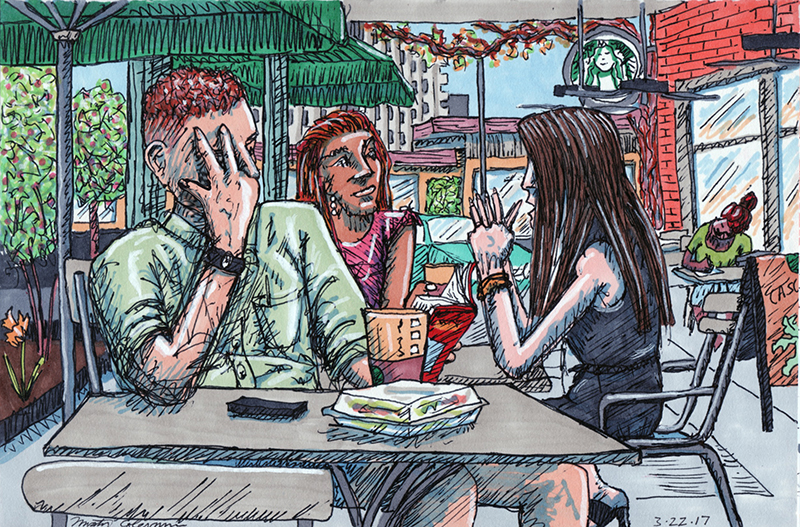 The original drawing is available for purchase here
My wife and daughter needed to go to Utica Square, an outdoor shopping center in Tulsa, after Church. I took the opportunity on a gorgeous spring day to hang out at Starbucks Coffee place patio and draw.
As I walked out to the patio after getting my coffee I noticed someone I thought looked a lot like a friend of mine, Victoriya.  As I looked I just wasn't sure. She looked like her in style, same beautiful long hair and stunning eyes, but her face was shaped a bit differently.  I hadn't seen her in person in many years, since she modeled for our Photography Club so I wasn't sure.
I sat 2 tables away and started to draw the scene. It took about an hour or so to complete the drawing. When I was done I posted a photo of both the drawing and the scene on my instagram site (@thenapkindad).  As I did that I noticed a posting by Victoriya showing a photo of another part of Utica Square with a comment about what a beautiful day it was. But the hashtag she had with it said #saturdayvibe and today was Sunday. That made me think it was just an odd coincidence and it really wasn't her.  Often I will connect with those I draw to show them the drawing but in this case they left while I was still drawing and I didn't have the opportunity to do so.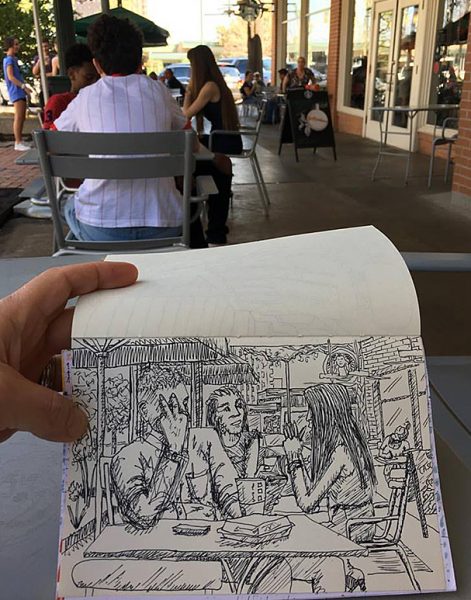 Later another friend, Bianca, commented on the drawing saying she had been there and loved the shoes the woman was wearing. She must have walked by right before I had sat down or maybe I was oblivious, who knows. I had also noticed her heels and had just enough room to draw a portion of one at the bottom of the drawing.
Later that night I messaged Victoriya to ask her if she had been at Utica Square that day and lo and behold, she had. It was her I had been drawing that whole time (she is the one facing to the left in the black dress).  She commented back on the post saying it was her, and thanked Bianca for the compliment about the heels.
---
Drawing © 2017 Marty Coleman | napkindad.com
---