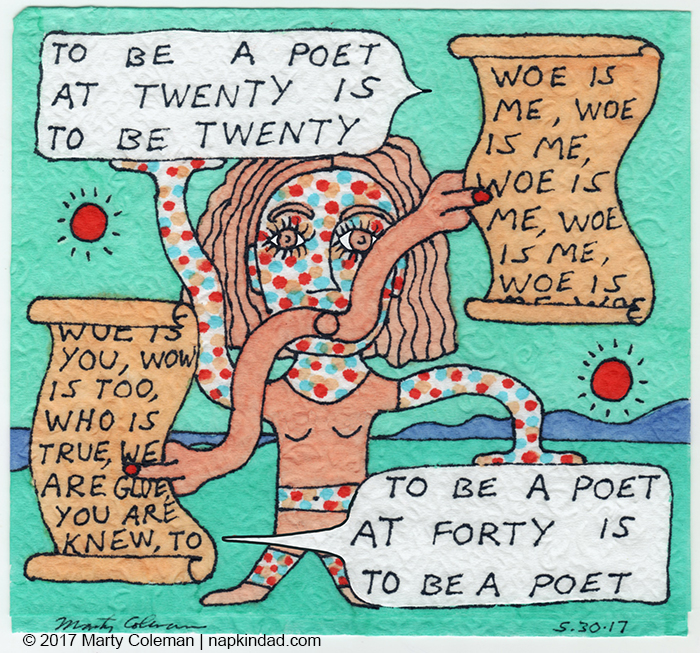 Purchase the original drawing | purchase a print
---
I have known a lot of people, male and female, who wrote poetry when they were young. It was a rite of passage into and out of adolescence.  Many did the same thing with journaling, diary entries, drawing and art making in general. And it was almost always about two things.  The creative urge to write and visualize at that age was about expressing feelings, emoting and self-discovery.  But as time passed many figured things out, the angst lessened and the need to express in that way diminished.
Or at least they thought it did. But the truth is many stopped creating and regretted it. It may have taken a while but at some point they realized they had let something important go. It may have been they needed to rediscover themselves and they once again felt the urge to express that.  But they could also have matured and realized creative endeavors aren't just about letting the world know how you feel. Sometimes it's a way to understand how the rest of the world feels. Sometimes it's a way to make sense of a world by returning to something fundamental in themselves.
If you are twenty, I encourage you to keep writing, keep creating.  This will require you grow beyond your own expression of self and start using your creative force to imagine and understand other worlds.  If you are 40 and stopped your creativity years ago, I encourage you to start that stagnant engine again. It might require some hard work, but it will be worth it.
---
Drawing and commentary © 2017 Marty Coleman | napkindad.com
"To be a poet at age twenty is to be twenty. To be a poet at age forty is to be a poet." – Eugene Delacroix
---