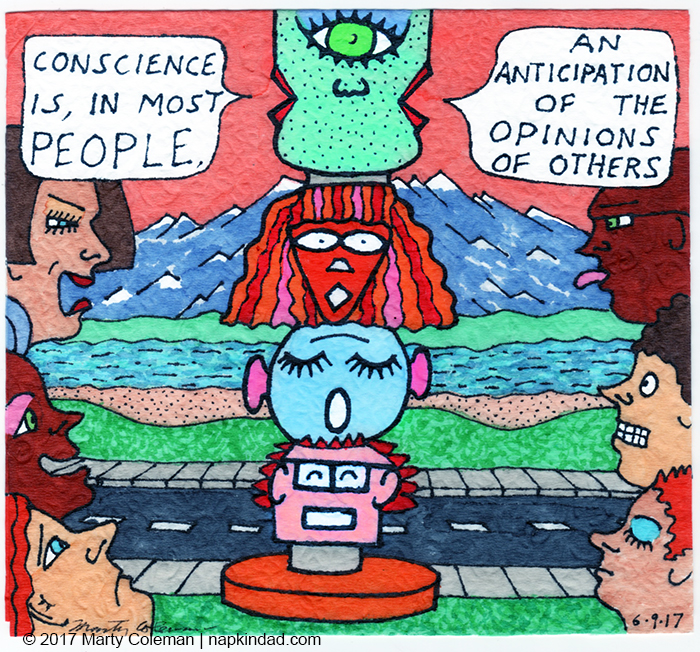 The Right Thing
Have you ever felt like your reason for doing 'the right thing' is because of what others would think of you if you didn't? Think of how many areas that happens; giving in church, volunteering, forgiving someone, wearing something 'appropriately modest', dating only people in your age range, your choice of careers, etc. The list goes on and on.
Being Judged
What are we worried about? We are worried that we will be judged. At the least we will be judged 'less than'. At the most we will be judged morally corrupt. We don't want to be judged. it's painful, it's embarrassing, it's shameful.  And so we behave. And that is good and bad. For example, It's good if your conscience keeps you from doing something hurtful and destructive but it's bad if it keeps you from pursuing a lifelong dream.
Knowing God's Will
For those of you of a religious bent, when I first became a Christian I heard a sermon called 'Knowing God's Will'. I expected it to be some tirade about sacrificing and doing what you didn't want to do to prove how much you loved and followed God. It wasn't. What the preacher said was basically, Whatever you want to do is God's Will. That surprised me and has kept with me ever since. What I took it to mean was that God has instilled in you a desire to do or accomplish something and he is not interested in creating a desire in you only to condemn you for following it. If you love creating art, then create it with the full assurance that your desire was put there by God. If you want to be an aid worker helping victims of disasters, do that with the full assurance that your desire was put there by God.
Knowing the Difference
But how do you know whether what you want to do is ok or not? Simply and honestly ask yourself this: is what I want to do going to hurt myself or others? If you are going to go have an affair, then guess what? That is hurtful. It's called cheating for a reason and there is a valid moral judgment on that. If you are going to pursue being a park ranger, even if your family doesn't understand why, that is not hurtful to you or others. There is no legitimate moral judgment on it.
No Matter What
But guess what? Someone is going to think what you want to do is a bad idea. They will say you won't be able to support your family that way. Or you will be putting yourself in harm's way. They will say it is trivial, or shallow, or not important enough, or this or that. Someone will judge you. But your conscience, if it's screwed on straight, will know whether what you are doing is harmful to yourself or others. It will know if you are rationalizing or are lying to yourself. Looking inside at that instead anticipating the opinions of others is key to living the life you want to live.
---
Drawing and commentary © Marty Coleman | napkindad.com
"Conscience is, in most people, the anticipation of the opinions of others." – Sir Henry Taylor, 1800 – 1886, British Playwright
---