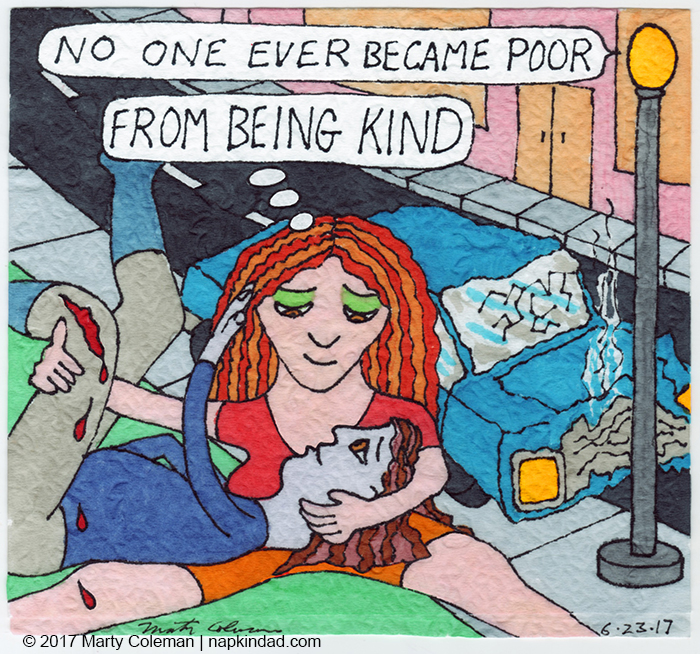 My wife Linda once did this for a stranger. The car in front of her wrecked getting off a freeway and she was the first on the scene. She tended to the driver, who was seriously injured. She held him and let him know she was with him until the ambulance arrived. She found out later he died. She also found out later that he was the brother of one of her co-workers. His family was quite grateful to know that she was there with him and that he didn't die alone. Linda felt good knowing that even as she was sad about the death.
Recently she was leaving church when two woman at a bus depot across from where she parked her car screamed they needed an ambulance. Linda didn't see anything that led her to believe they really needed an ambulance and kept walking. The women started yelling and screaming at her, spewing hate and anger. Linda turned around and asked them if they really needed an ambulance. One of them yelled, "I need some food!". Linda went across the street and offered the woman a protein bar. The woman said, "I don't want that. I want a ride home!". She then proceeded to throw the protein bar into the street toward Linda, who had started back towards her car. She got in and left. Linda felt bad at getting that response.
Two acts of kindness, two different circumstances, two different feelings. But that's the thing about kindness.You have to do it because you just want to be a kind person. You can't be kind with the expectation of a specific result. If that is the case you will quickly be disillusioned and bitter about being kind.
Drawing and commentary © 2017 Marty Coleman | napkindad.com
"No one ever became poor by being kind." – adapted from a quote by Anne Frank