I was proud to get up to 30 miles last week. I did it again this week and felt good about that. But ramping up the miles took its toll. Soreness, fatigue, random pain all came out of the woodwork. I thought the main reason was because I had run two long runs in a row. But I was reading the post of a friend who said she had run 220 miles in June and it started me wondering how many miles I had run. I knew it wasn't anywhere near that far but checked just out of curiosity. My June miles were 120. That isn't all that much for a marathoner but then I checked that against my May miles and it was more than double, from 55 to 120. That gave me a longer view of my progress, beyond day by day or week by week.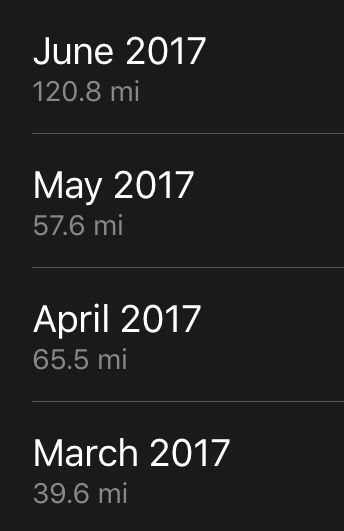 Another element of my training this time around has been a regimen of stretching. I am terribly unlimber,  have been my entire life. But if I want to be able to increase my stride length and go longer distances without me tightening up, I really felt like I needed to be stretched out. My goal? To touch my toes. NOT an easy thing to accomplish for me! Month after month it really seemed like I was making no progress. But just recently I have been able to touch my toes in two different ways! I am not at the point where I can just bend straight over and do it, but I can do it sitting down on the floor and stretching out and I can do it with one hand to one foot. So, I am making progress after all!
I think we easily get stuck in the short view, that if we can't see progress in the immediate present we can't see it at all. We end up thinking none is being made. But that is a mistake. We are making progress, it's just sometimes on a longer scale than it is easy to see.
I am currently in Colorado on vacation. I am at 9,500 feet and have a whole new set of running challenges ahead of me!
In the meanwhile, Have a happy Fourth of July!