Training Camp
Last week I went to 'The Hills', an elite high altitude training camp in the Rocky Mountains of Colorado. I was there to train my lungs, legs and mind in the thin air of 10,000 feet. Ok, I actually went with my wife to visit her sister, Cathie Hill and her family, who live in Breckenridge.  But it is at 10,000 feet and I did go for a number of runs so I am going to stick with the training camp idea.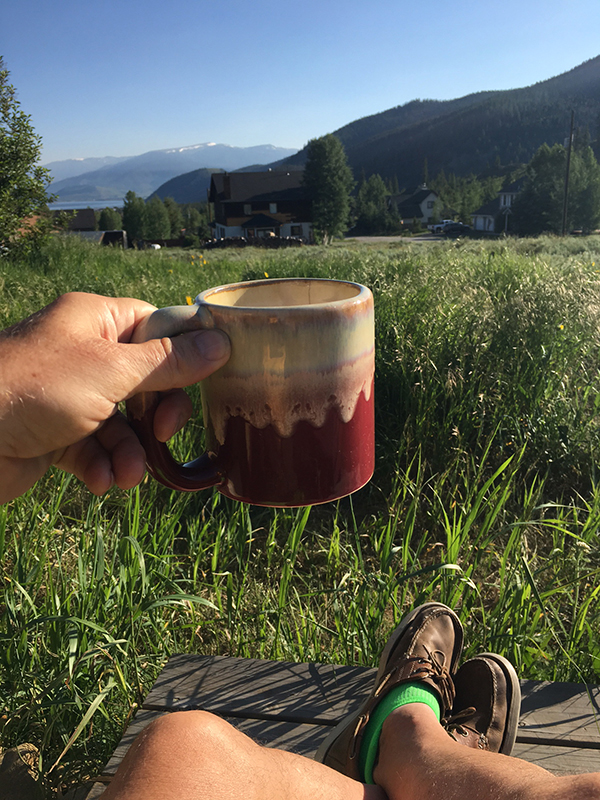 We had a fantastic time with family doing all sorts of fun activities. We rafted down the Colorado River one day and hiked 6+ miles up to a magnificent waterfall and back another day. We went to a cookout in Denver, then to a Colorado Rockies Major League Baseball game. And we witnessed and worried about a threatening forest fire near their home. There was also a fair amount of cooking, eating, game-playing, singing and general fun. In addition I read about 100 pages of my current book, Alexander Hamilton. However, I still have close to 600 pages to go so I definitely need another vacation.
High Anxiety
There is anxiety for a runner when they face a new challenge. My worries up that high were simple: 'Will I collapse and die?' and 'will I get eaten by a bear or stomped by a moose?'  I can safely report now that none of those things happened.  But, when we got to their house and had to climb a flight of stairs I definitely thought any running would include a collapse. It's SO easy to get out of breath in the mountains!  But because the air is so much thinner, high altitude running is fantastic for building lung capacity and oxygenating the blood. It can be done, it just takes patience.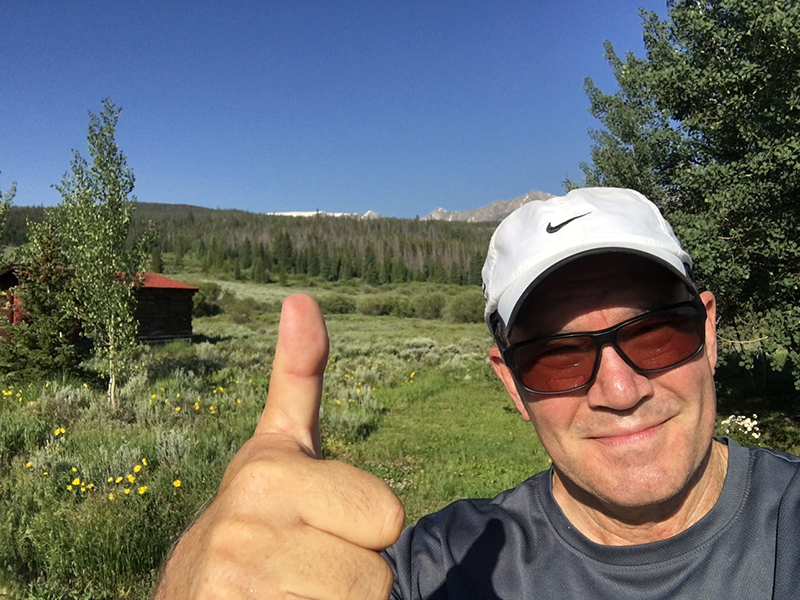 Plans and Expectations
My plan was to acclimate gradually by going a short distance the first day, then increasing that each successive day. Day one was a 3 mile run. I took a walk break after the first mile, then each half mile after that. I felt good at the end but it felt more like I had done 6 miles, not 3. Day two was a 5 mile run. I took a walk break at mile 2 and 4. Day three was 4th of July and I skipped that day.
At this point my plan for day five was to do 7 miles and day six I would do 9. As I started my 7 mile run I definitely thought I was not going to make it 7 and certainly wouldn't make it 9 the next day. It was tough, even when I tried to slow my pace. I took a walk break at each of the first four mile markers. Then I turned around and instantly realized I had been on a very slight but insistent uphill grade for those 4 miles. Once I headed back I felt great and didn't stop at all, stretching the 7 miles to 9 miles!  I was acclimated!
Day six we decided to do a rigorous hike. Because of that I didn't want to wear myself out beforehand and decided to skip the 9 miler (since I had done 9 the day before anyway, right?). The hike was more of a challenge than the runs because it was a 1,000 ft climb over mostly rocky terrain. That pushed my Achilles and my legs in ways my running does not. I am not a trail runner but I took the opportunity to run a few times during the hike anyway. I loved the hike and it made me want to do some trail runs in the future.
Home Again
We got home late Friday and the next morning I was ready to lead Pathways and do extra miles to get in my scheduled long run of 12 miles. But, it was storming quite a bit and we were only able to get in about 3 miles, 2 of which were in a pouring deluge. It was invigorating and exhilarating (I love running in the rain) but it wasn't 12 miles! I could have just let the long run go but as I mentioned before my goal has been to hit at least 30 miles a week running. So I did my 12 miles Sunday morning before church. It was a solo run, probably the longest solo run I have done in 3-4 years. I took a unique route along a busy street so that I could pass a pharmacy and get some hearing aid batteries I needed. It all went great and I averaged the pace I wanted (9:30). I could have gone longer even as the day heated up so that was a good sign.
This coming week will be filled with leading the start of the Fleet Feet Tulsa Fall half and full program and continuing to coach the Pathways group. Getting in my miles shouldn't be a problem since I have a lot of running to do just covering those groups.
That's it for now. Feel free to ask questions or give suggestions about running, training, etc.
You can read the entire Marathon Training Series HERE
Marty