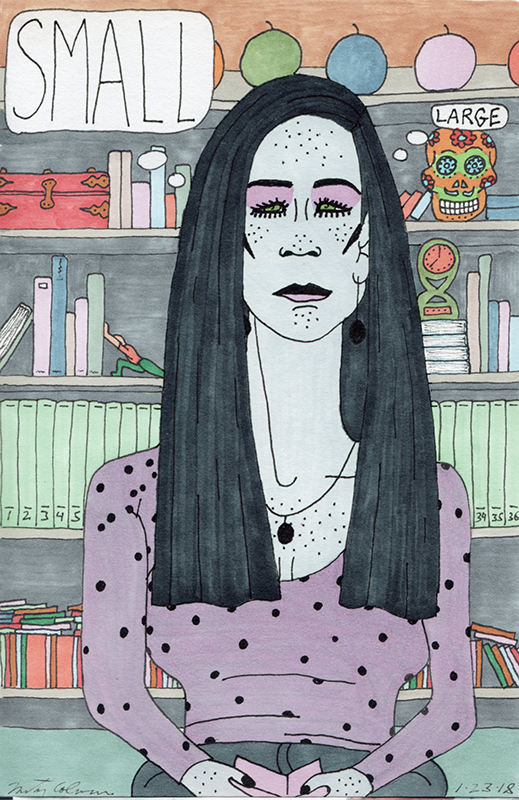 The Woman with Only Two Thoughts – An Illustrated Short Story
The Large and The Small
The woman wasn't able to think anything but these two thoughts. Everything was either too large or too small. Things were never just right. Well, that isn't exactly true. Sometimes the large thing was just right, even though it was large. And sometimes the small thing was just right, even though it was small. But most of the time the thing that was small should have been larger and the thing that was large should have been smaller.
The Things
This was true of real things, like cheese or mufflers, but it was also true of unreal things, like Jesus or monsters. She thought cheese was usually too large for her mouth and that mufflers were too small for her cars. She thought Jesus was too large for her morals and that monsters were too small to kill her enemies. She thought her books were too large or too small. The non-fiction ones always seemed too large. When she was 3/4 of the way through she almost always wanted them to be over. And she thought fiction ones were too small. Most of the time, when she finished a novel she didn't want it to end.
The Body
She felt this way about her body. Her apartment was too small, for example, and the reason for that was that she was too large. She wasn't large sideways, just up and down. That meant she hit her head on the door jams a lot. It meant her shower was too small. The water never hit her head unless she bent over. She hated that. She thought her breasts were too large but she didn't want to get them reduced because she was afraid they might be then be too small. She thought her eyes were too small, but only because she had so many friends who had their eyes enlarged that hers looked small in comparison. Her neck was too small, unless you measured it, then it was too large. Her knees were definitely too large and her fingernails were definitely too small. The worst part was that her bladder was too small and her heart was too large.
The Social
Her social life had the same problem. Her circle of friends was too large but her number of close friends was too small. As a matter of fact she really didn't have any close friends so she wasn't really sure she could even call it too small. Is zero of something too small? The amount of people she was in charge of at work was too large. The amount of people she could complain to about how large this group of people was was too small. Then there were all the people she had to commute with on the train. That number was too large and that meant the number of seats on the train was too small. As a matter of fact, not only were there not enough seats the individual seats were too small. She hated seats that were too small.
The Emotional
Now that she thought about it, her emotional life was that way too. Emotions, hers or others, were always too large or too small. That is why her boyfriends usually left her they said. They would hit her and she would get angry. They would say, "You are making this issue too large and it's just not." Or sometimes it would be the opposite. She would feel nothing and say nothing, trying not to upset them and they would get mad and hit her, saying, "You think you can just hide away and be small in the corner but you can't. I know you are plotting something and I won't let you get away with it."
The Just Right
Because of this, life was too large a struggle and she sometimes thought of killing herself. But she knew she never would because her courage was too small to do something that would hurt her or those she loved.  And that thought always brought her back to what I mentioned at the start, that sometimes things weren't too large or too small, but were just right. In spite of all her issues she always knew that the love her family had for her was that. It wasn't too large so that it suffocated her and it wasn't too small so she felt alone and abandoned. It was just right. The very large (but not too large) love her family had for her was the one thing that made all the other things small. And that was just right.
Oh, her shoe collection was just right too.
The End