I have been commissioned to do a napkin drawing on the topic of kindness for a fellow Periscoper.  I decided to do an entire series on the topic. Here's the first.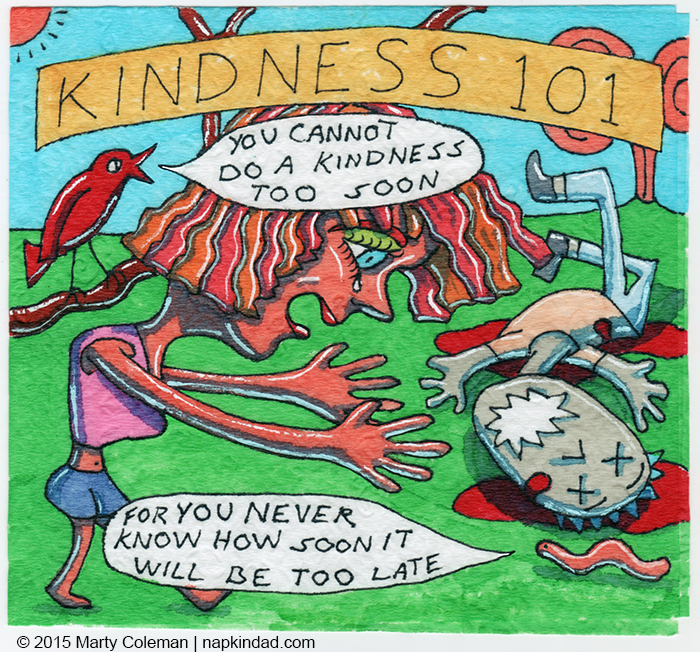 No Day But Today
It's 5am on a weekday morning.  I see a woman getting gas right next to me. I notice she is on the phone being perky, positive and upbeat to whoever is on the other end.  I am feeling tired and not at all ready to go running this early. I am doing it grudgingly because I have an obligation to some friends to show up.  While I wait for my tank to fill up I listen to her side of the conversation. By the end her enthusiasm and joy has made me feel a lot better about my morning.  My outlook has completely changed in the course of 2 minutes.
Wow, who would have thought that overhearing some random person could be so uplifting? I think about saying something to her to let her know how her positive attitude has really changed my morning. I want to thank her. But then she will know I was eavesdropping. She might think I am a creep. She might get mad. I might scare her. She might think I am hitting on her. I should respect her space. I decide to not say anything.  She drives away, I drive away.  I sort of wish I had said something but it's no big deal, just a random event at a gas station, not life changing after all.
I run with my friends and two of them tell me my positive attitude really helped them get in a better mood.  I tell them about the woman at the station and how I was going to say something but didn't.  Most of them say they wouldn't have said anything either. It would have been too awkward.  But one fellow runner says she wishes I had said something. She says, "You can't do a kindness too soon for you never know how soon it will be too late."
I say, "Maybe I will see her next week at the same station, then I will say something to her."
My friend says, "That would be nice, do that."
I go home and switch on the TV to watch the news while I change for work.  The news is filled with reports of a shooting in a neighboring town.  A reporter and her cameraman were shot and killed. What a tragedy. Then they flash the picture of the reporter on the screen.  It's the woman from the gas station.
Fiction and Reality
This is not a true story about me and a woman at a gas station. But it might have been. There was a woman gunned down, Alison Parker, along with her co-worker, Adam Ward, this week in Virginia. Maybe she did get gas at 5am. Maybe she was on the phone, perky and awake. Maybe someone wanted to let her know she was a positive influence that day. I hope if they felt it, they said it. I hope someone gave the kindness they wanted to give to Adam as well. But I don't know.
But I do know that we never know. And because we never know, we should always err on the side of expressing the kindness we feel when we feel it, instead of waiting for the perfect time or circumstance.
---
Periscope
You can see the process of drawing this napkin and the 'Guess the Quote' game we played while I drew it.

---
Drawing, video and commentary © 2015 Marty Coleman | napkindad.com
Quote by Ralph Waldo Emerson
---