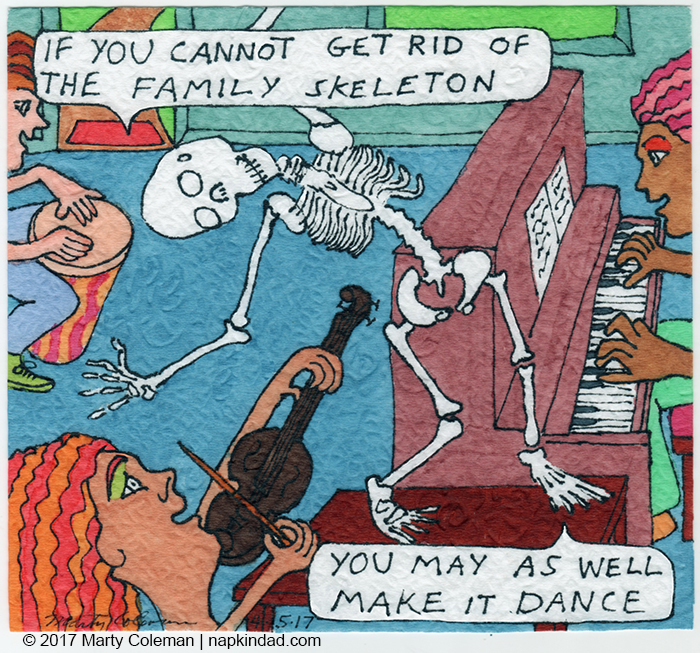 Original Drawing for sale | Print for sale
Exposure
It used to be that families would do anything to hide the people and events that embarrassed them.  But now we live a culture of exposure in America and it is much more acceptable for the world to know about these things. In some cases it's become ok because we've come to realize it isn't wrong or bad. Homosexuality is seen like that now much more than just 20+ years ago. In my mind that is a good thing. In other areas we realize that biology and chemistry plays a much bigger part than we used to believe.  Diseases, mental and physical, are understood to not be an indication of a moral failure.
My Family Skeleton
Sometimes we know something; a criminal past, an addiction, an affair, or an abusive relationship for example, is bad.  My parent's generation would have done anything to keep those things quiet.  For example, I didn't know my father had been married to someone else before he was married to my mother until I was 40 years old. Why? Because it was shameful in the Catholic church in which he was raised and it was a spot on the family reputation in my mother's mind.  The fact that he kept it secret all those years was astounding to me and my sisters. We couldn't figure out what the big deal was about it. But that is because we weren't raised in his world, we were raised in a world he worked to created for us instead of that older world. He just wasn't able to completely free himself from it.
Entertainment vs Education
In the quote above it can be seen as a family putting a skeleton in the closet on display, as if they are proud of it when they really shouldn't be. And in the Social Media age some do exploit them for money or fame, a sort of perverse pride that says 'Hey, look at how screwed up we are!'.  But I don't think most people take it like that. I think most just want to accept that this is them. Then they are saying, if we are going to have these skeletons we might as well make them have some value. but I think most of us just want to accept that they are there and find a way to learn from them, to have the skeletons help us and others become better people.
What do you think?
---
Drawing and commentary © 2017 Marty Coleman | napkindad.com
"If you cannot get rid of the family skeleton, you may as well make it dance." – George Bernard Shaw, 1856-1950, Irish Playwright
---