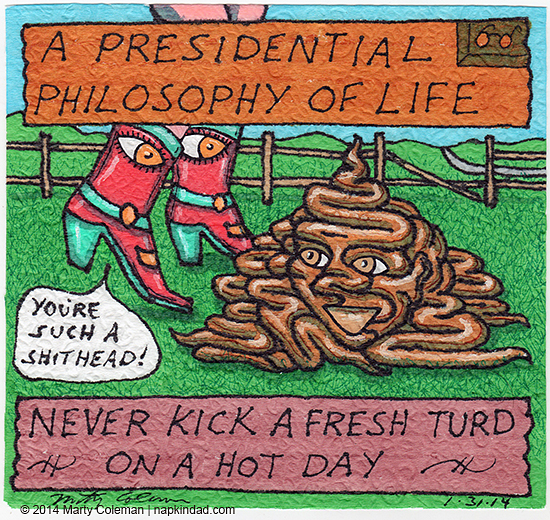 I, S**thead
One day long long ago, when my first wife and I were headed towards a divorce, My wife was out and I was upstairs in the computer room seething about the situation. I was really, really angry.  At the same time downstairs my daughters were being really noisy with each other.  They were annoying me to no end. Instead of being calm and civil about it I stomped downstairs and yelled at them.  One of them asked something along the lines of 'Why are you so angry?'.  At that point I had gone into the kitchen and had started to unload the dishwasher. I had about 6 full size stoneware dinner plates in my hand.  I blew up, threw the plates as hard as I could straight down on the kitchen floor and yelled, "Because your mother hasn't loved me for most of our marriage and forgot to tell me, THAT'S why!"  
My words, actions and the breaking of the plates froze them in place where they were in the living room, eyes and mouths wide open in disbelief.  It obviously scared the s**t out of them.  It was, in my opinion, the single worst behavior I ever exhibited in front of my kids and I deeply regret any emotional damage it did to this day. 
I calmed down almost immediately, apologized and started to clean up the broken plates.  My wife came home right then and asked what happened.  One of the kids said I had dropped some plates and my wife thanked me for cleaning it all up.  I considered not saying anything and just letting her believe I was doing a good deed.  But I didn't.  I responded to her compliment by telling her the truth.  She later said that was one of the critical moments of our final year that tilted her towards divorce.  
Girls, if you are reading this, I am still really sorry I did that.
No Blame
Now, of course, there was no way for my kids to know I was a pile of fresh s**t having a hot emotional day. They were not to blame in the least for my incredibly stupid outburst.  I tell the story to illustrate that most of the time when we are confronted with a s**thead acting s**tty we haven't done anything purposely to provoke him or her.  We are just in the wrong place at the wrong time and aren't to blame.  
Philosophy of Life, Really?
So, how is this a philosophy of life?  Well, in the small sense, when we know we don't have to do anything to have s**theads come across our path way too often, there's no reason on earth to make life even harder by purposely provoking a s**thead, right?  
In the larger sense, it's as simple as this, don't do stupid things on purpose.

_______________
Drawing and life story by Marty Coleman
Quote by Harry S. Truman, 1884-1972, 33rd President of the United States
_______________