It's day #3 of 'The Extrovert and Introvert' series!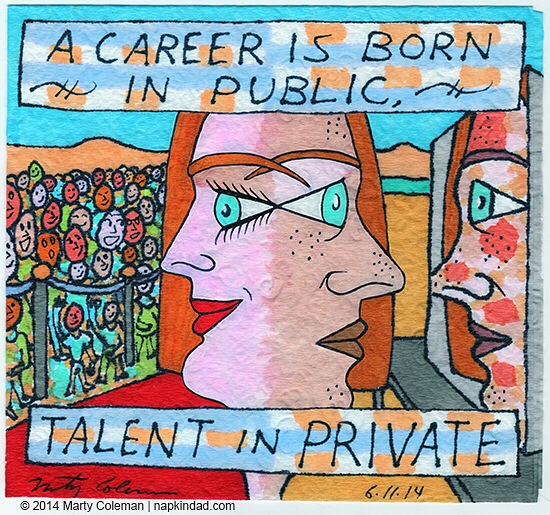 Alone Together
I started out in college studying printmaking. Because you have to use big, heavy and expensive presses to print your work, and you have to use chemicals and inks that require special handling, you usually are in a group environment in a big studio.  You do your own work but you are talking to others, maybe helping them print something or asking advice on how to get something right, as well as just idle chitchat that happens during long hours in the studio.  It's the perfect 'alone together' environment for an artist who is an extrovert.
Alone Alone
But early on I was so much of an extrovert, I wanted so much socializing, that I didn't really spend an adequate amount of alone time doing my artwork.  I believe my career as an artist actually suffered because of that. What I eventually learned is embodied in the quote, 'A career is born in public, talent in private'.  In my understanding now I believe you will not be successful creatively unless you spend immense amount of time alone simply practicing, training, learning, exploring and creating your work.
Model Alone
This is true of artists, actors, singers, writers, speakers, and more; anyone who has to be in the public at some point. Even professions you wouldn't at first think about.  In my capacity as an organizer for PHOTOG, the photography group I help lead here in Oklahoma, I often will need to find models for shoots. If the model is inexperienced one of the essential bits of advice I give is for them to practice posing in a mirror by themselves.  The reason is so they can really know their own face and body, what it does, how they can make it do this or that.  
Being alone, focused on practicing something over and over, is where talent will be born. We who are extroverts can learn something from introverts who already know this.
______________________
Drawing and commentary by Marty Coleman
Quote by Marilyn Monroe, 1926 – 1962, American actress
______________________