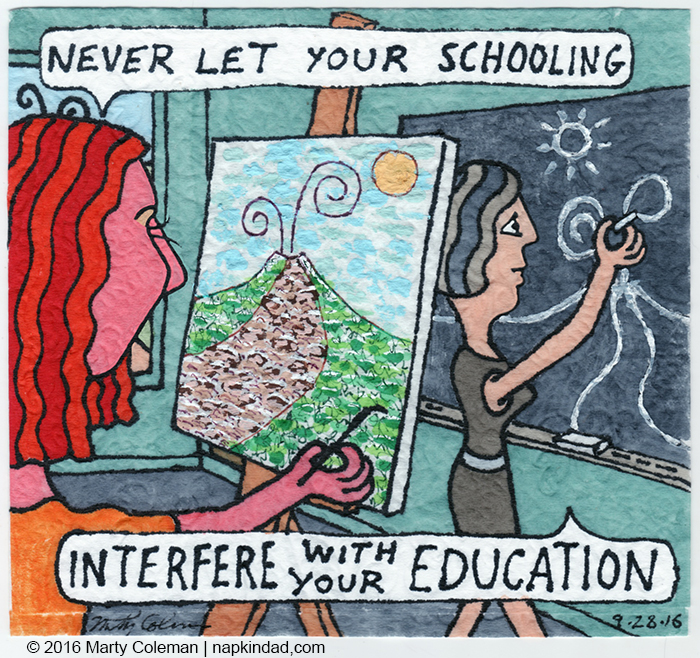 Buy the original | buy a print | matte and frame available
---
Purpose of School
School, as wonderful as it can be, has a purpose. And it isn't to make you educated. It's to make you educated so you will be a contributing member of our society.  That means so you can hold a job that contributes, or start a company that contributes.  Some schools also want you educated in such a way that you are a positive influence in society. At least according to that society. That might mean you are a good consumer, or give to charity, or compete well on the athletic field.
In other words, the education want to educate you to fit in. And I don't think that is that bad a thing. I don't mind fitting in somewhat.
Purpose of Education
But fitting in has it's limits.  If your goal is to only fit in then a good schooling works well for you and for your society. BUT if you want to  expand beyond that fit, then you need to be educated beyond school.  You need to keep learning on your own.  Because learning on your own is how you will reshape your society for the better. It's how you will challenge and change worn out traditions and prejudices. It's how you will illuminate and bring to fruition new visions of art, science, nature, ideas, morality, spirit, and more.
Purpose of You
Your purpose is not just to fit in.  Your purpose is to become you.  Part of you will fit in, and that is good. But another part, no matter how small or large, should aspire to break those bonds. That part of you should work to learn as much as you can in whatever area you want, apart from society's purpose for you.
Because if you do that, you will not just fit in to society, you will at the same time shape it into something better, something that says you have been here.  That is a good thing.
---
Drawing and commentary © 2016 Marty Coleman | napkindad.com
Quote by Mark Twain, 1835 – 1910, American Humorist
---