Finally Step 10!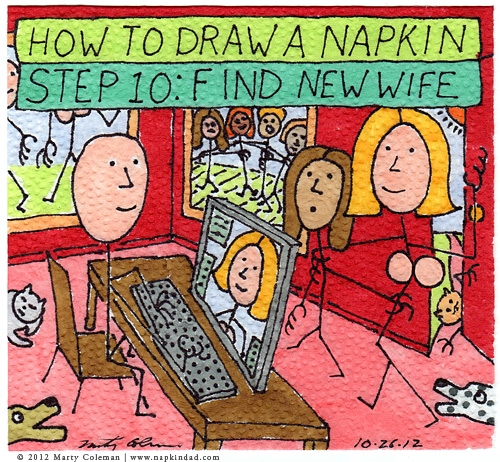 Step 10a-10d: See 1a-1d
Step 10e: Get divorced after 20 years of marriage.
Step 10f: Start dating woman from church who is also getting divorced.
Step 10g: Stop dating woman from church and introduce her to guy in Sunday School.
Step 10h: Have woman from church say she can't ever talk to me again because her new boyfriend I introduced her to is jealous.
Step 10i: Go internet dating.
Step 10j: Have some wonderful girlfriends who aren't quite the right fit.
Step 10k: Meet woman on match.com, think she is cool and date her for 2 years, with a break up in there somewhere.
Step 10l: Meet woman from match.com's daughter and think she is cool.
Step 10m: Ask woman from match.com to marry me.
Step: 10n: Get married to woman from match.com
Step 10o: Find out woman from match.com's name is Linda.
Step 10p: Live happily ever after.
This is a great place to stop for a while. I will pick it back up later, maybe doing it once a week or so.
_________________
Concept, drawing and commentary by Marty Coleman, who thought internet dating was fun.
________________
Fact of the day 
Approximately 1/3 of marriages in the US are step-family involved remarriages for one or both partners.
________________