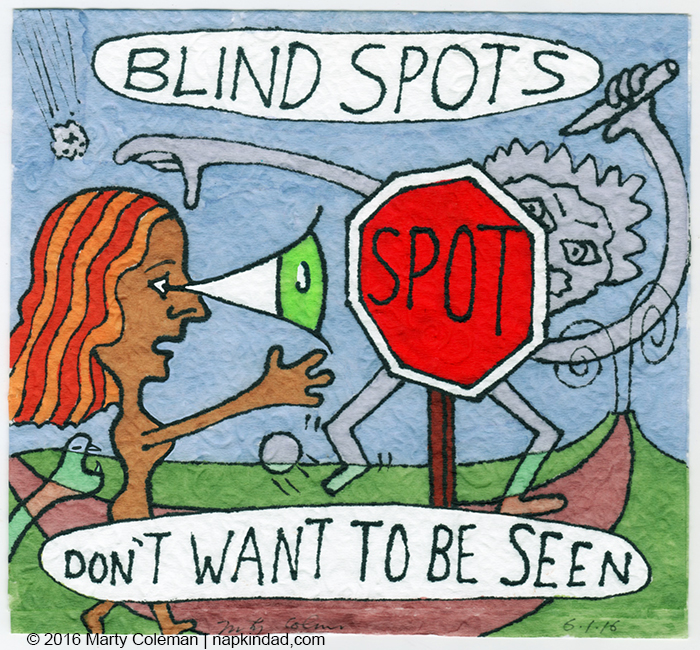 Buy the original drawing | Buy a print
The Last Word
One of my favorite lines in any song is "Sometimes we're blinded by the very thing we need to see." It's in 'The Last Word' by Mary Chapin Carpenter.  She's one of my all time favorite singer/songwriters. She never fails to bring real and raw meaning into the world with her poignant lyrics and powerful music. This song also happens to be on one of my all time favorite albums, Stones in the Road.  If you haven't ever listened to it, I really do believe you are missing one of the most perfect albums ever made.

My Blind Spots
Hearing those words made me start to look at my own blind spots, which is hard, since they don't want to be seen.  Actually, that isn't true. The spot itself, as is shown in my drawing, is actually what we do see. We see it so big and bold that we don't see beyond it. We don't see what it's hiding.
We can even be enamored of our own blind spots, as when we brag about our ignorance on a certain subject, or our lack of talent in some area, as if it is a badge of honor instead of something to pay attention to and move beyond.
What both the quote and the lyrics say to me is that you see what you want and need to see; infatuated love, the possibility of wealth, the dreams of fame for example, and seeing those things so big can blind you to seeing the emotional desperation, the selfish greed, or the empty loneliness that might come along with those things.
Desire
In other words, desire often begets blindness.  So I try to ask myself as often as I can, what is it I am desiring here, and how is that changing, and perhaps warping, what it is I am paying attention to?
Many years ago I did a napkin drawing of the actual lyrics I mentioned above. Here it is. it is one of the earliest of the napkins drawn for the world instead of just for my daughters. it's from 2009.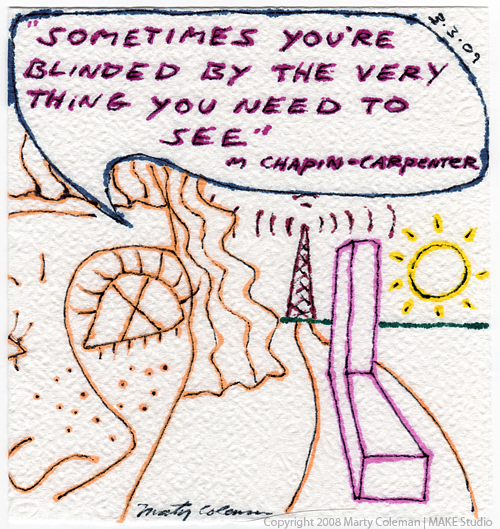 ---
Drawing and Commentary © 2016 Marty Coleman | napkindad.com
Quote by George Herbert, 1593-1633, Welsh Poet and Priest
---