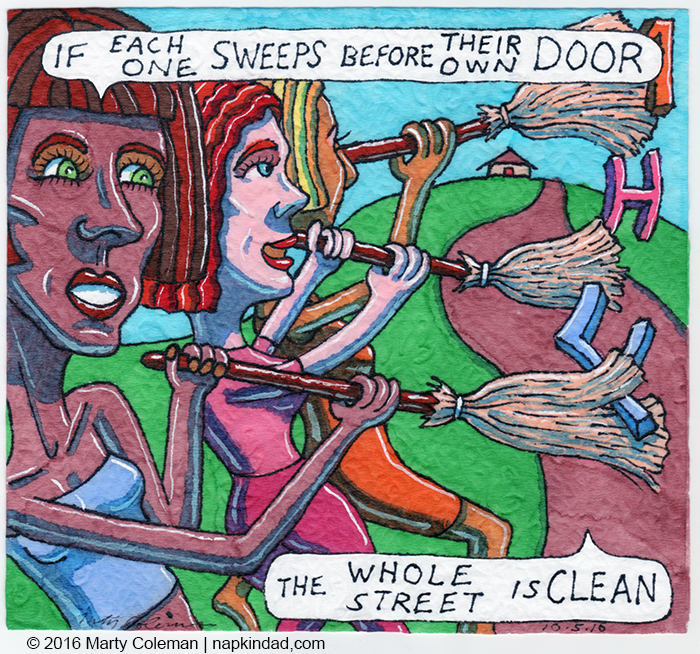 Purchase the original | Purchase a print | matte and frame available
Individual
Here is the most ironic thing about teamwork is that each individual has to do their own individual job for it to succeed.  Now, it is true that each individual doesn't have to perform perfectly at every moment.  And it is also true that on a team individuals pick up the slack for one who isn't able to perform. Nonetheless, no team succeeds if all the individuals fail.
In Concert
What that means is there isn't some magical potion that transforms all the individuals into one entity. They remain individuals with their own thoughts, their own drives, their own motives.  BUT, if the leader is doing things right then those thoughts, drives and motives, while still belonging to the individual, are in concert with the other teammates.
Examples in Life
Being an example is another successful element of teamwork that often goes overlooked.  The individual on the team who successfully sweeps away fear motivates his or her teammate (or neighbor) to do the same.  The individual who keeps anger under control helps others on the team believe they can do the same.  And the individual who does not descend to hate inspires the teammate to do the same.
These individuals can be doing it for themselves but they are also doing it for each other.  This is how teams win, this is how societies become better.
---
Drawing and commentary © 2016 Marty Coleman | napkindad.com
Quote is a Polish proverb
---