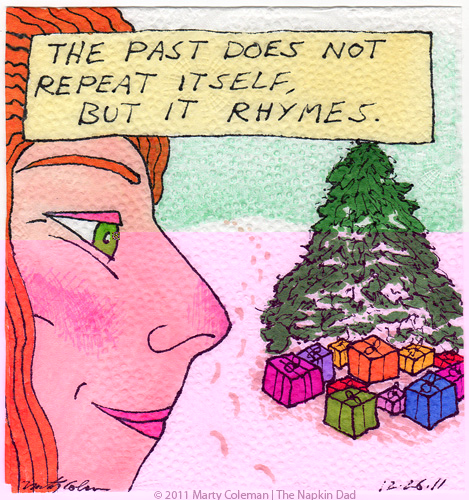 We had a different Christmas this year for a few reasons.  None of my three biological daughters were here, I have been crazy busy getting pieces finished and ready for my upcoming 'Velveteen Women' exhibition (opening January 6th at Living Arts of Tulsa) and just a sort of general fatigue about the 'work' of decorating for Christmas.  We did decorate, but not as much as usual.  We watched a Christmas movie and TV show or two, but not the usual dozen or so.  Caitlin, my step-daughter, had mixed feelings about this. She didn't get into it quite as much, she felt bad, ok, resigned, relieved all at various times.  Linda, my wife, felt the same way.  But Christmas morning was wonderful, Christmas brunch with the family was especially fun, as was Christmas Eve.  In the end it was different, but it was good.
Here is what I felt.  Christmas does not occur exactly the same each year even if it seems to. It has mutations to the sameness that sometimes makes it brighter, sometimes a bit more melancholy, sometimes devastatingly different, sometimes virtually the same. But it is never really the same, is it?  Christmas rhymes with Christmases past, it doesn't repeat them.
How do you feel about Christmas (or any holiday) changing in your life from year to year? How do the changes in you make those changes happen?
Drawing and commentary by Marty Coleman, owner of a really small car.
Quote by Mark Twain, who is now dead.