A Road Trip
On Sunday I drove 9 1/2 hours to get to Cedar Rapids, Iowa to attend my Aunt Ann's funeral on Monday.  I left to return home that same afternoon.  I  could have driven it straight back but it would have had me arriving around 2am, waking up Linda, if she wasn't still up worrying about me driving home in the rain.
The Fortuitous Stop
I also wanted to to stop for a selfish reason.  I wanted to reacquaint myself with some heroes of mine, which I will tell you about tomorrow.  But unbeknownst to me I would also meet a Goddess or two on the trip.
I stopped for lunch in Independence, Missouri (That should give you a hint about the heroes I was coming to see).  I asked for recommendations after visiting the heroes and was told Cafe Verona was a great choice.  It was very cold out so I was happy to sit next to this arrangement in the sun drenched bar area.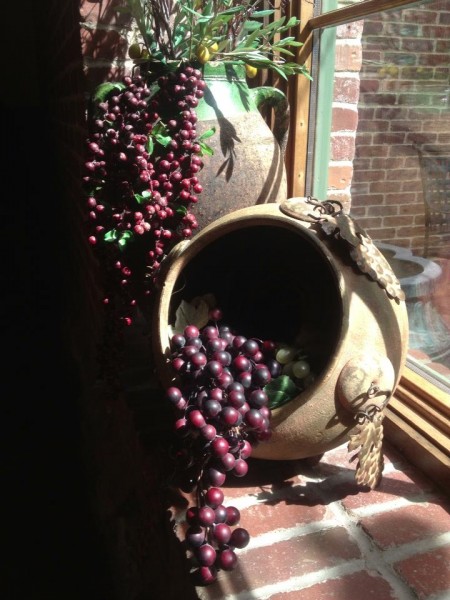 __________________
The Goddess and the Mortal
When I first came into the establishment, this is what I saw.  Way up high was a huge reproduction of Sandro Botticelli's 'Birth of Venus' (1485).  And below was a woman with a Grecian/Roman look to her. She had a gold band around her hair with an elegant bun, an Aqualine profile and all around her were things that felt Roman; vases, urns, wine, etc.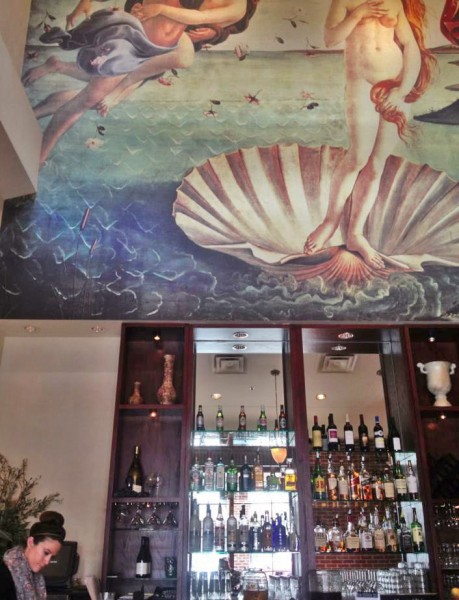 The juxtaposition between the woman and Venus was just too cool not to capture.  I debated what to title the image . Perhaps 'The Two Goddesses' would make sense.  Perhaps 'Venus and…'  and who? I didn't know her name.  I settled on 'The Goddess and The Mortal'.
_________________
Drawing the Mortal
The mortal, who was the restaurant manager, was standing still at the bar, working on some afternoon paperwork. I took advantage of her stillness to draw and came up with this.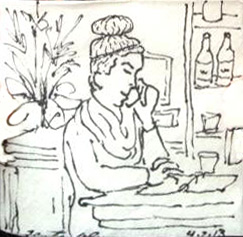 When she took a break and looked around I gestured to her, asking her to come over to my table.  I showed her the drawing, which she liked, and I asked her to pose with it, which she graciously did.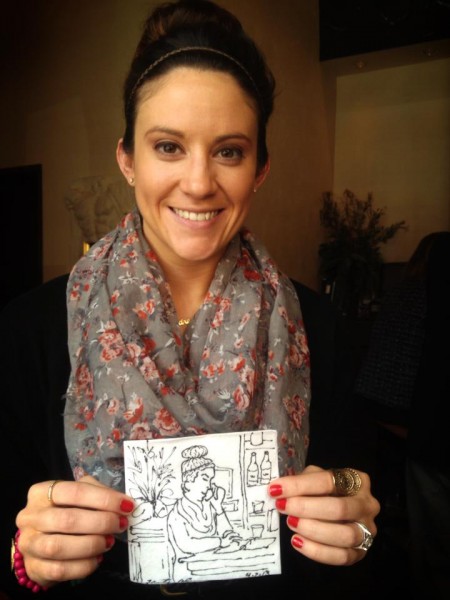 ______________________
The Mortal becomes a Goddess
I told her of my naming dilemma over the photo, that I wanted to call it 'The Two Goddesses' or 'Venus and…' but I didn't know her name.  She blushed, smiled and then said, 'My name is Diana'.  
And that is how I met a Goddess living incognito and working in a restaurant in Independence, Missouri.  One never knows who you will meet if you are willing to engage.
Here is the drawing after I completed it this morning.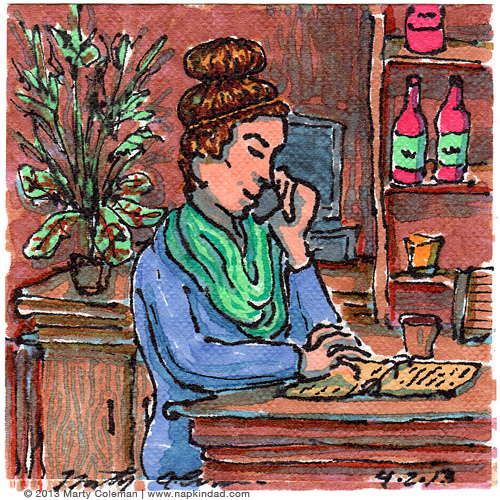 And finally, since I had my good camera with me I couldn't resist asking the one Goddess who was 3 dimensional to let me take a photo.
_____________________
Part 2 tomorrow – 'Meeting Old Heroes'
_____________________
Drawing, photos and story by Marty Coleman, who enjoys meeting Heroes and Goddesses.
_____________________
You can read up on Botticelli's 'Birth of Venus' at Uffizi.org
You can check out Cafe Verona on Facebook.  It's REALLY good!