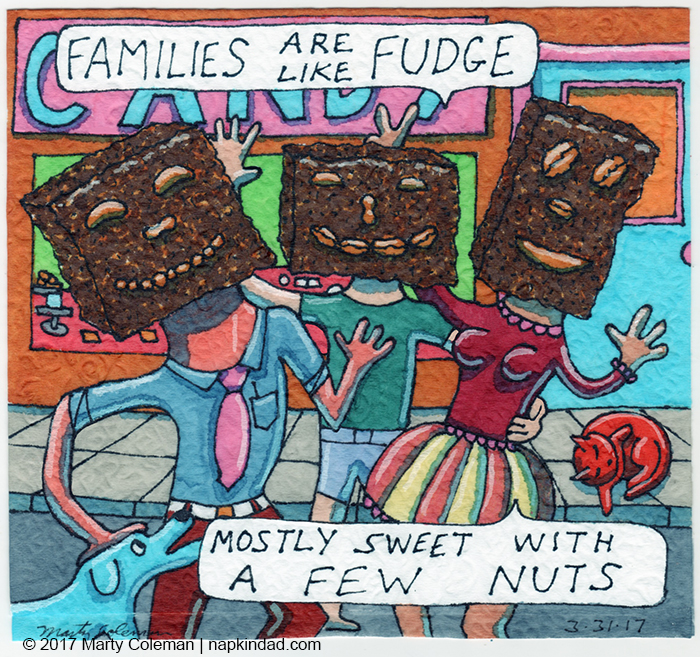 If you don't think this is true in your family, I humbly suggest you probably don't know much about your family. In that case, You probably want to look at 'Family #1' in the series. That's about family skeletons.
Lee
In my family we have very sweet people and they are all a bit nuts as well. I am completely and utterly thankful for that. My mother was the epitome of the loud-mouth broad.  First, she was loud. Second she was really funny. Third, she didn't give a hoot owl's ass if someone liked her that way or not. She made fun of pretense and absurd efforts at self-righteousness. She was unabashedly sentimental, crying a river each and every time one of her grown kids returned home. Have them all together at the same time? She was a blubbering mess. She could make friends with the least likely of strangers in the most unlikely of places. I mean, come on, she met her best friend in a grocery store line.  And I am proud of that. It's the thing I love most about my sister's and myself, that we can, and do, make friends with strangers almost every day.  My mother is the reason for that.  Do I think some people think that is a bit nutty? Yep. Do I care? Nope.
Bunny
My mother's brother, Uncle Bunny (born on Easter), had this dry sense of humor combined with a absurdist's ability to connect completely disparate things together. He was the founder, for example, of the Marin County Zeppelin Society. It was open to all survivors of lighter than air crashes. Since anyone alive has obviously not died in one of those crashes, it was open to anyone. It really was just an excuse for him and his pals to get together every Saturday for coffee and brunch, but he went so far as to convince the County to put an official emblem up on the board leading into town, alongside the Rotary and Kiwanis Clubs. Why did he do that? Because it was funny. It cracked him up and he figured it would make others laugh too. And it did.
Skeets
My Father meanwhile, didn't have the same sense of humor as my mother's side of the family. But he did have something I treasure, and that was his embracing of the new and different in the world. He wasn't afraid to bring things back from foreign lands for us to wear, use, ride. He brought back from Peru a 'Ruana' for each of us. It is an outer wool garment, like a shawl, only thicker and more substantial. We wore those things for all our childhood. He imported 2 Solex Mopeds from Europe for us to ride. They are motorized bikes and once again, we rode them everywhere for years and years.  We were the only ones to have either of those things and I thought that was very cool. Those are just two examples of how my father was. He loved to find great design and bring it home. He didn't care if it was something everyone else had, as a matter of fact, it was much more interesting if no one else had it.
Those are just a few examples of the sweet nuts in my family. Our daughters and my other sister, Jackie, also have that same trait of loving their individuality, easily make friends, and have a great time exploring the new and unique offerings the world has to give.
Me
A few examples from my own life. I once went through a fast food drive-through and was so taken by the beauty of the person's voice talking to me through the speaker that I got her to come into the software design studio I was working at to do voice-over work. I didn't have anywhere to display my daughters' ceramics so I hot glued them to the ceiling in my kitchen (yes, they stayed up). I painted our white picket fence with black splotches so it would match our dalmatian, Oreo. I once did an art project on tan lines. I went to the beach, found people whose tan lines were showing, and asked them if I could photograph them. The vast majority said yes and the resulting art piece, which was those photographs collaged onto a striped beach towel, was in my Master of Fine Art Exhibition at San Jose State University.
Can this sound strange to some people? Yes. And I wouldn't change it for the world. Embracing that heritage has made all the difference in me being a happy and creative person. I know I am always able to find humor and beauty in my life, am always going to be open-minded and curious about the world around me, and can make good friends and keep good friends, no matter where I meet them.
I highly recommend a lot of sweetness and a lot of nuts!
---
Drawing and commentary © 2017 Marty Coleman
"Families are like fudge. Mostly sweet with a few nuts."  – anonymous
---