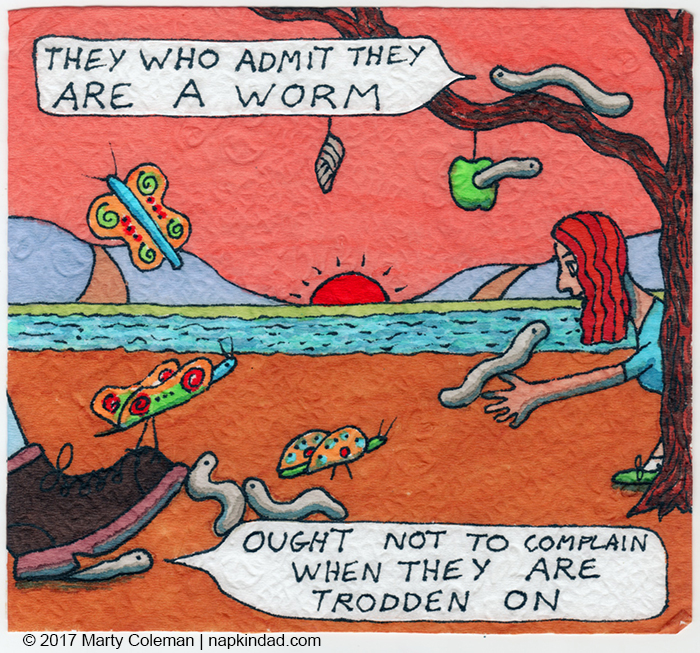 Lesser Than
I have known many people who do feel they are not equal to anyone else. Maybe it is like a friend of mine, one of the smartest and funniest young humans I know, who posted that she is worried sometimes that she will not live up to the standard of all the talented people she sees all around her, that she won't make the cut. This is what I wrote to her in response:
We all feel like fakes sometimes. I am like 3 times older than you and I still feel it. But, while I was feeling that on and off all these decades I also became a kick ass artist who has created some amazing stuff. So, doubt all you want, it's normal, just KEEP WORKING ON WHAT YOU WANT TO BE. That is what matters in the end, the work you do, not the feeling you may have once in a while.
Where did that originate with her? Honestly, I don't know her well enough to say for certain. But if it is like many others I have known, it could be a disconnect between her desire for high achievement (based on her intrinsic understanding of her intelligence and abilities, of which there is a lot), and the recognition of her limitations of health, opportunity and ambition.  I don't think it's an uncommon disconnect among young people. They have grand dreams and those dreams often narrow as they age. There is a moment at which they only see the narrowing of the dream, not the blossoming of another dream that will be even greater and more fulfilling.
Or maybe it is like my ex-wife, who felt she didn't have enough value to stand up for what she wanted and expected in a marriage while she was married to me. I wish she had been able to, but she wasn't.  Where did that lack of value come from? Perhaps the roots were in her parents' decision that if you wanted to be a good Christian (which they were in many ways) then not only was acting bad not allowed, but expressing, or even having, bad feelings wasn't allowed either. The consequence was that when she did express the completely common and expected feelings of growing up into maturity, those feelings weren't allowed or validated. And that told her that what she felt, and thus she, was of little value.
How to Balance
How do you get a balance? It's about practice. Just as an artist or athlete gets better by practice, so attitudes and perceptions do as well. You can think about changing an attitude but the truth is that attitude will very likely not change until you take action to change it, to practice a new attitude. This can happen if you let an old attitude or perception trigger a new way of looking at something. For example, when you catch yourself denigrating your abilities, allow that to be a trigger to say something positive and good about your abilities. You don't do this to fake your way towards something, you do it because you are practicing being truthful about who you are in the world. You actually do have positive and valuable qualities. Stating that you have them is not egotistical or vain. it is reality. And since you are currently on the self-denigration side of the scale you aren't really in reality. This practice is getting you back to a balance, that is all.
---
Drawing and commentary © 2017 Marty Coleman | napkindad.com
"They who admit they are a worm ought not to complain when they are trodden on." – anonymous
---